EXCLUSIVE: Eva Longoria 'Suspicious' of 'Shady Text Messages,' Source Says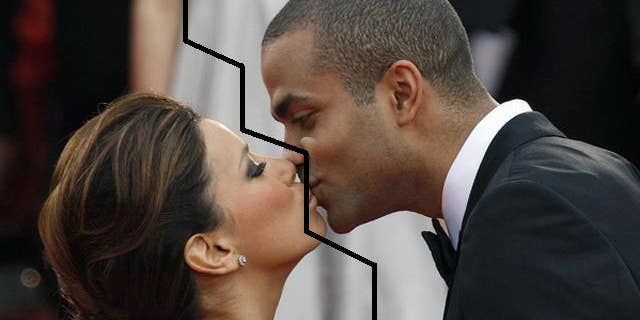 With reports multiplying that basketball wife Erin Barry could be behind the break up of Tony Parker and Eva Longoria, a friend of the 'Desperate Housewives' star tells FOX411.com that Longoria is done with Parker for good.
"Eva will not be reconciling with Tony. He is officially cut out of her life and she is serious about that in every way," the source said, adding that Longoria will be spending Thanksgiving with the family and friends who are coming to her aid as she deals with the fallout of her Wednesday divorce filing.
That fallout includes a New York Post report that her husband and San Antonio Spurs teammate Brent Barry's wife, Erin, were texting each other "for a while and probably crossed the line. Eva found out by looking at his phone."
The pal said the reports are not surprising.
"Eva had been suspicious on and off during their marriage about him possibly cheating. There were always groupies," the insider told FOX411.com. "There were many shady text messages, and recently at a game there was a situation with a woman that has been around the team a lot, and it made her feel very uncomfortable. She just knew something was going on."
Longoria's pal said her friends and family are trying hard to boost her spirits.
"Eva will have people staying with her at home almost around the clock. Friends like Terrence Howard and Mario Lopez have been close to the star for years and have been in touch with her nonstop since the rumors began," the insider told FOX411.com. "The 'Desperate Housewives' cast are her family, and they are mothering her and monitoring her to make sure she stays as positive and whole as possible."
The insider said one cast member in particular has been a rock for Longoria.
"Felicity Huffman is probably the sweetest and most caring woman, and she has been someone Eva has always turned to for comfort and advice," said the source.
Longoria wants the divorce to go as quickly as possible, the pal said: "She wants minimal to zero contact with him and wants no part of a fight for money. She'll continue to have a home in Texas and LA for family and work. They were careful not to tie their money or business together, so the divorce should be as painless as possible."
Longoria and Parker were married July 7, 2007. They each posted a statement on their Twitter accounts Wednesday addressing their divorce.
"We love each other deeply and pray for each other's happiness," the post said.