EXCLUSIVE: Elvis Presley's Doctor Claims He Died of an 'Embarrassing' Case of Chronic Constipation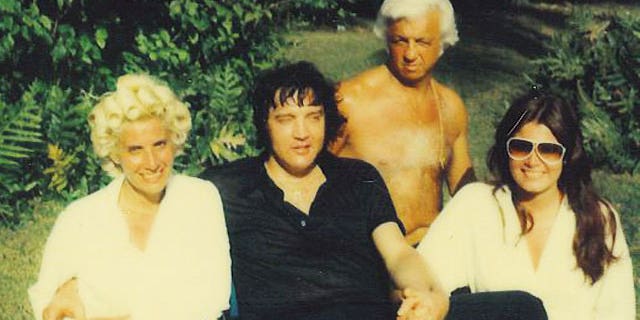 LOS ANGELES – It has been widely reported that Elvis Presley died in 1977 from cardiac arrhythmia, an irregular heartbeat, possibly brought on by drug dependency, obesity and a weak heart. But the music legend's longtime friend and physician, Dr. George "Nick" Nichopoulos, has put pen to paper for the first time and revealed his belief that it was chronic constipation that actually killed the King of Rock and Roll.
"After he died we weren't sure (of the exact cause of death) so I continued to do some research and I had some doctors call me from different places and different med schools that were doing research on constipation and different problems you can get into with it. I just want to get the story straight – it all made sense with the new research that was done," the now retired Memphis M.D told Pop Tarts. "Dr. Nick" was by Presley's side for the last twelve years of his life and tried to resuscitate him the day he died. He recently released the book "The King and Dr. Nick" about his time with The King, and his theory on the death that shocked America.
"We didn't realize until the autopsy that his constipation was as bad – we knew it was bad because it was hard for us to treat, but we didn't realize what it had done," the doctor explains of Elvis' condition. "We just assumed that the constipation was secondary to the meds that he was taking for his arthritic pain and for his insomnia."
According to Dr. Nick, the autopsy revealed that Presley's colon was 5 to 6 inches in diameter (whereas the normal width is 2 to 3 inches) and instead of being the standard 4 to 5 feet long, his colon was 8 to 9 feet in length.
"The constipation upset him quite a bit because Elvis thought that he could handle almost anything, he thought he was really a man's man and he wasn't going to let something like this … he thought that this was a sign of weakness and he wasn't going to be weak," Nichopoulos said. "And it's not the kind of thing you table talk. Back in the '60s and '70s you didn't' talk about constipation much, you didn't' hear people complaining about it, or saying what they did or how much trouble they had with it."
In 1975, the primary treatment for this kind of problem involved removing part of the colon, known as a colostomy, and at the time Dr. Nick was in talks with a surgeon at the University of Memphis to perform the procedure. However Presley's "ego" got in the way.
"He would get embarrassed, he'd have accidents onstage. He'd have to change clothes and come back because of the way we were trying to treat his constipation," Nichopoulos said. "So if they had done the colostomy then, he'd probably still be here. But it wasn't acceptable treatment at that time. Now the treatment is short."
Nichopoulos also believes that Presley's prominent weight gain in the years prior to his death, was not a result of overeating or eating the wrong foods, as they initially assumed. The doctor reveals that Elvis' bloated appearance was due to his severe constipation.
"It was really a physiological problem. During the last few years we were going back and comparing pictures, some of them were taken just two weeks a part but he looked like he'd gained 20 pounds when the only difference was that he had a good healthy bowel movement and then lost a lot of weight from that," Dr. Nick explained. "Usually you pass it all in two or three days, but at the autopsy we found stool in his colon which had been there for four or five months because of the poor motility of the bowel."
So how would Presley feel about all the details of this "debilitating" disease being made public?
"I still think it'd be embarrassing for him, but that may be because we couldn't explain it at that time the way we can now. But bowel paralysis is hereditary and you can in fact pass it down to your children," he continued. "His condition was either something he was born with like Hershberger's disease, or some viruses cause the paralysis of the nerves in the colon. The nerves weren't functioning enough in places, or weren't functioning at all because his colon would not push food out, it would just accumulate."
And even through all the trials and tribulations of their personal and professional relationship, Nichopoulos will first and foremost remember the captivating yet compassionate person that was our beloved American icon, Elvis Presley.
"He was well-written, a very kind person, a very giving person. He was just one of a kind. You couldn't ask for a better friend," Dr. Nick added. "The main thing that he enjoyed in life was doing his shows. He would change from one person to another as soon as he walked on the stage. He would just go through a metamorphosis – all of a sudden he flipped a switch and looked like a toy soldier dancing up there."