Exclusive: Brittany Murphy Counts Her Blessings in Final Interview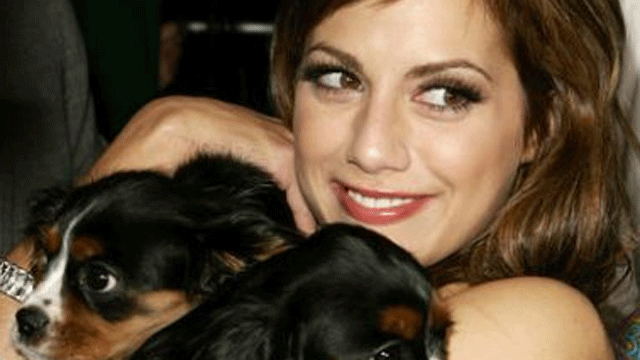 Actress Brittany Murphy was rushed by ambulance to Cedars Sinai Medical Center in Los Angeles in the early hours of December 20.
She was pronounced dead on arrival from cardiac arrest.
Pop Tarts spoke with Murphy just days earlier, in what now turns out to have been her final interview.
SLIDESHOW: Remembering Brittany Murphy.
Murphy's frail appearance at the December 3 opening party of contemporary label Tt Collection's first pop-up retail location in Los Angeles raised a few eyebrows.
"I am a bit thinner now then what I would like to be," Murphy told Tarts.
Murphy, who also seemed to be a bit distracted and dazed, had been dealing with an array of personal stresses.
In November, rumors circulated that she was fired from a film in Puerto Rico, which her rep told Tarts at the time was not true.
Then her husband Simon Monjack was rushed to hospital after their return flight in which he became gravely ill and "incoherent."
Despite admitting to being a few pounds underweight, Murphy was very enthusiastic about her workout regimen, crediting her slender physique to plies and pirouettes.
"I was a ballerina for a long time," Murphy said. "I still take ballet lessons now – what it does to your body is incredible."
Murphy also wanted to talk to Tarts about a charity very close to her heart. Proceeds from the Tt Collection event were being donated to Looking Beyond, an organization that helps families of children who can't afford the prosthetics that they need.
"Looking Beyond is a charity I've been involved with for a very long time and very passionate about it," Murphy said, tearing up. "What they do is incredible, giving limbs to children in need. It's very heartbreaking, but so great to be able to help."
The emotional actress was quick to count her own blessings.
"I feel very blessed for everything I have in my life and my family," she told Tarts.
We also wanted to know if she kept in touch with the cast of "Clueless," the movie that put her on the map.
"I haven't spoke to them in a long time, but I still keep in contact with Amy Heckerling, the director," she added with a laugh. "So funny, but it was hard to get a job for two years after that, everyone thought I was really Tai."
Funeral arrangements for Brittany Murphy are now being planned.