Evander Holyfield files suit to prevent memorabilia sales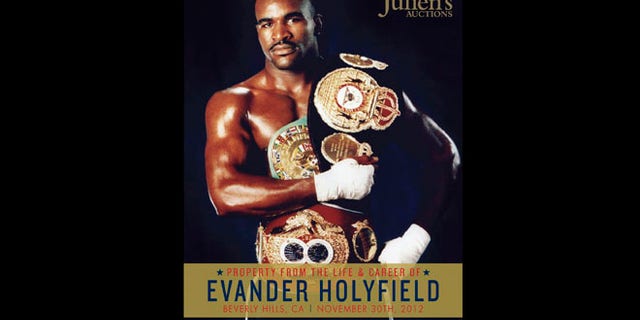 LOS ANGELES – Evander Holyfield filed a lawsuit Thursday to try to stop the upcoming auction of some of his boxing memorabilia, including an Olympic bronze medal and the gloves he wore to fight Mike Tyson.
Holyfield's lawsuit was filed in Los Angeles and seeks an order blocking the sale of 20 of the almost 450 items set for auction Nov. 30 by Julien's Auctions.
The case claims Holyfield must consent to the auction of all the items and that the disputed items should be returned.
Julien's Auctions President and CEO Darren Julien said his company had approval from Holyfield to list the items for sale in a press release announcing the auction earlier this year.
He said his company has worked for months to organize a world-class auction of Holyfield's memorabilia and other items that had to be hastily collected when the former boxer had to vacate his Georgia home due to foreclosure.
Julien said Holyfield has been advanced hundreds of thousands of dollars. He said Holyfield had already selected items he wanted to keep, although the lawsuit claims the ex-boxer was often distracted while items were being catalogued and sorted.
Holyfield wants a judge to block the sale of the disputed items, including gloves used in the 1996 bout with Tyson, robes he wore in the Olympics, a Father of the Year award and championship belts he won in 1993.
The lawsuit claims holding back those items from sale would "not suffer anything other than a dip in income."
"If, on the other hand, Holyfield is forced to sell those few items of personal property that have the very most sentimental value to him as he looks back over his career, and which he wants to pass down to future generations of his family, the hardship is overwhelming and irreparable," the lawsuit states.