Eva Longoria Graduates With Master's Degree In Chicano Studies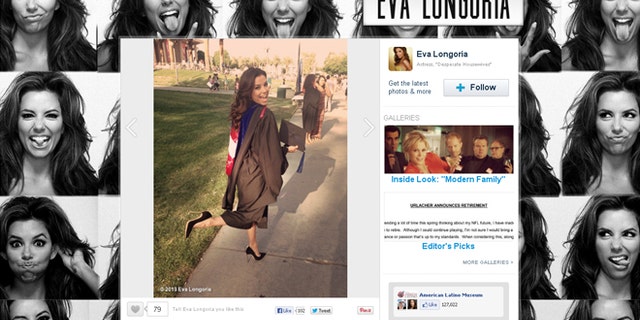 NEWYou can now listen to Fox News articles!
Eva Longoria had time to star in 'Desperate Housewives' and lobby for President Barack Obama during an election year – all while attending classes and earning a master's degree.
On Wednesday, the Mexican actress graduated with a master's degree in Chicano Studies from Cal State Northridge, and posted constant updates on her Who Say site.
She wrote with a cluster of photos, "Big day today!!! Very excited to graduate for my Master's degree in Chicano Studies! You're never too old or too busy to continue your education!"
A rep told TMZ Longoria even completed course work on the set of ABC's 'Desperate Housewives' during the filming of its' eighth and final season in 2012. She was also spotted by the entertainment website eating dinner with her parents after the ceremony.
Perhaps to the surprise of some, the master's degree was the real deal and not an honorary degree. The 38-year-old sat in classes and titled her thesis "Success STEMS From Diversity: The Value of Latinas in STEM (science, technology, engineering and math) Careers."
The Latino rights organization, MALDEF, celebrated her success and the subject she chose to major in.
Longoria has a bachelor's degree in kinesiology from Texas A&M.
Longoria is currently the executive producer of a new Lifetime show called "Devious Maids," which stars four Latina actresses.
The show is scheduled to premiere on June 23.