Erin Andrews to miss 'Dancing With the Stars' this week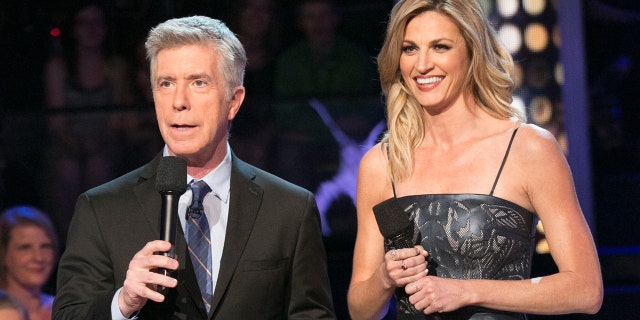 NEWYou can now listen to Fox News articles!
"Dancing With the Stars'" Tom Bergeron will be hosting Monday's new episode by himself, as co-host Erin Andrews is taking time from work to be with her boyfriend, hockey player Jarret Stoll, who suffered a death in his family.
The 61-year-old long-time "DWTS" stalwart announced the news via Twitter on Sunday, sharing, "My pal @ErinAndrews will be absent from @DancingABC this week to support @jarretstoll whose nephew passed away. Sending hugs and condolences."
PHOTOS: 'Dancing With the Stars' Season 23: See the Hot Pairings!
Bergeron himself took time off from hosting the ABC reality competition series during season 21 to be by his ailing father's side before he passed away in October 2015. Former "DWTS" champ Alfonso Ribeiro filled in for the host during his absence.
However, Bergeron confirmed on Twitter that he will be flying solo for the first of the week's two episodes, and that the show will "have someone (as yet undetermined) filling in for Erin" on Tuesday's live results show.
WATCH: Tom Bergeron Pays an Emotional Tribute to His Late Father on 'DWTS'
Neither Andrews nor Stoll have commented on the death of his nephew, however she did take to Twitter on Sunday to share her reaction to the untimely death of Miami Marlins pitcher Jose Fernandez, who was killed in a boating accident, along with two others, early Sunday morning.
"No words...awful," Andrews wrote after sharing a sadly prescient tweet Fernandez posted on Sept. 1, reading, "If you were given a book with the story of your life, would you read the end?"