In a night of politically charged jokes aimed at Roseanne Barr, Republicans and Hollywood's diversity issues, "The Marvelous Mrs. Maisel" and "Game of Thrones" took home the night's top honors at the 70th Annual Primetime Emmy Awards.
"Thrones" took home the award for outstanding drama series for its penultimate season and the series' creators David Benioff and D.B. Weiss thanked the cast, HBO and, above all, George R.R. Martin for giving them control of the characters that people know and love.
And it was Amazon Prime's comedy "Mrs. Maisel" that won a staggering amount of awards for its freshman season including outstanding comedy.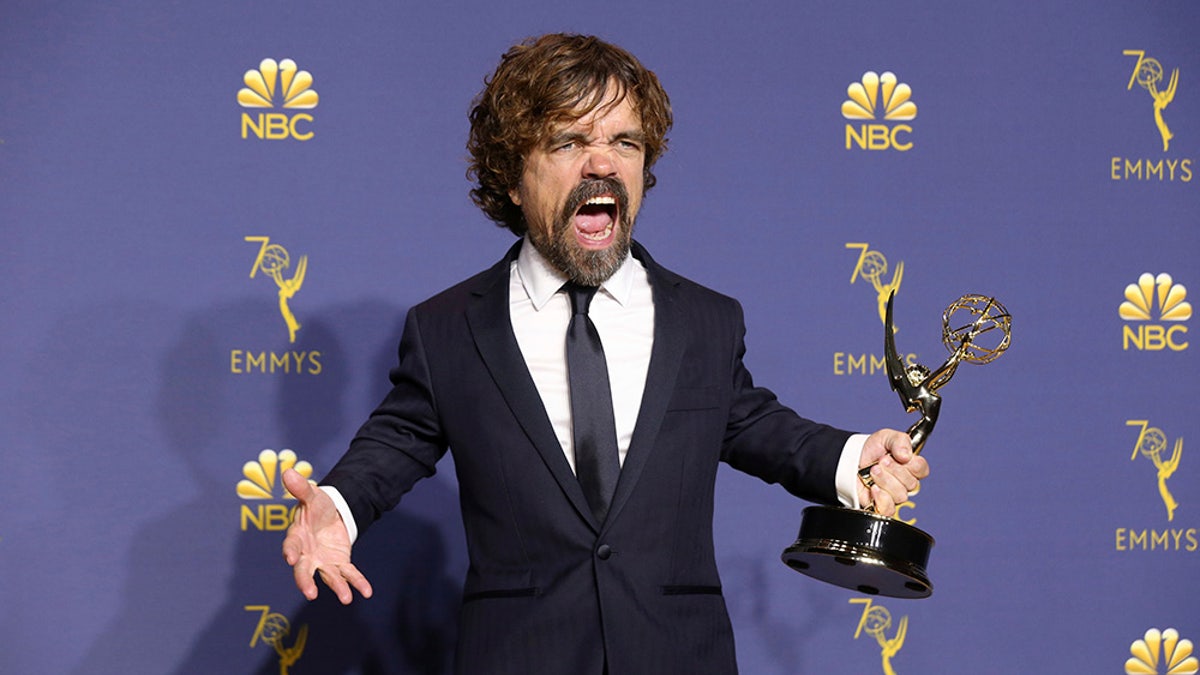 ROSEANNE BARR THE BUTT OF MANY JOKES AT EMMYS
Before the awards were given out, the show began with a musical number from "Saturday Night Live" cast members Kate McKinnon and Kenan Thompson who immediately noted that the 2018 show had the most diverse crop of nominees in history; more than a third of the 101 acting nods announced in July going to ethnic minorities compared to a quarter of the field in 2017.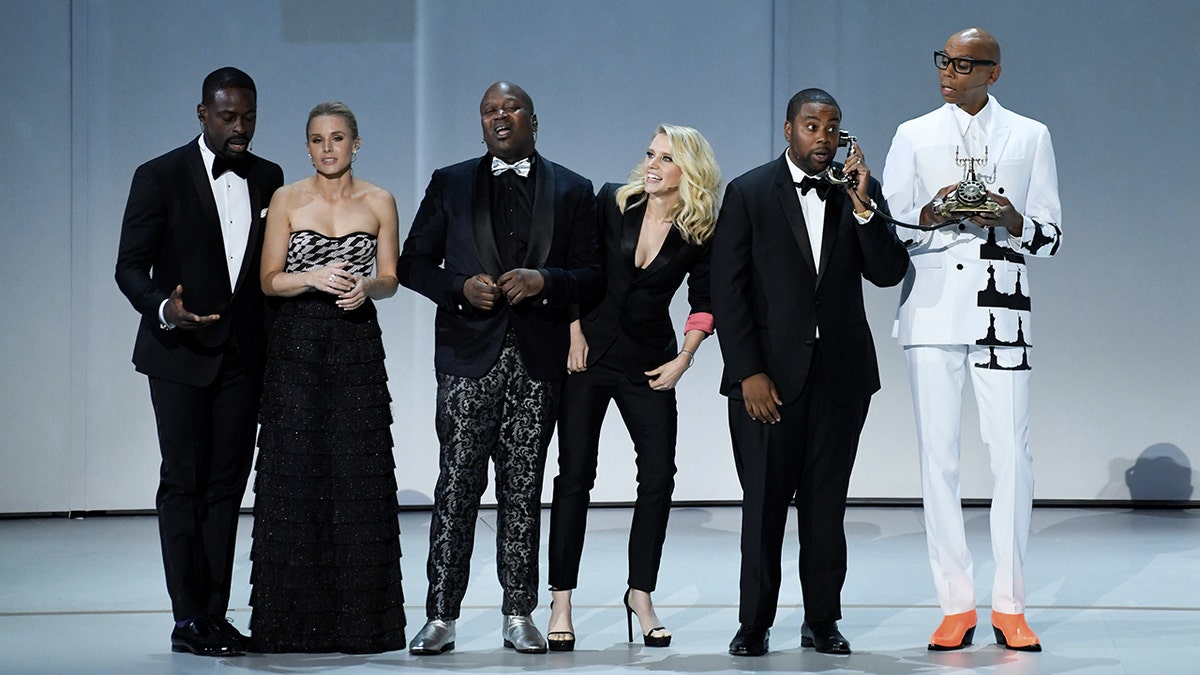 They launched into a comedic number boasting that Hollywood had solved racism and were joined by Titus Burgess, Kristen Bell, Sterling K. Brown, Ricky Martin, RuPaul and Andy Samberg. The number boasted that women and people of color are having their year, prompting Samberg to ask if there's any place for him in the song -- there wasn't.
After the song, co-hosts Colin Jost and Michael Che wasted no time diving into issues on the tip of everyone's tongues: politics, diversity in Hollywood and the slew of powerful people in the entertainment industry that were exposed by the #MeToo movement this year.
PETER DINKLAGE REACTS TO 'GAME OF THRONES' ENDING: 'IT WAS DEFINITELY HARD TO SAY GOODBYE'
"It is an honor to be here sharing this night with the many, many talented people in Hollywood who haven't been caught yet," Che said, pointing to the crowd of A-listers.
"My mother is not watching," Che continued. "She says she doesn't like watching white award shows because you guys don't thank Jesus enough… that's true. The only white people that thank Jesus are Republicans and ex-crackheads."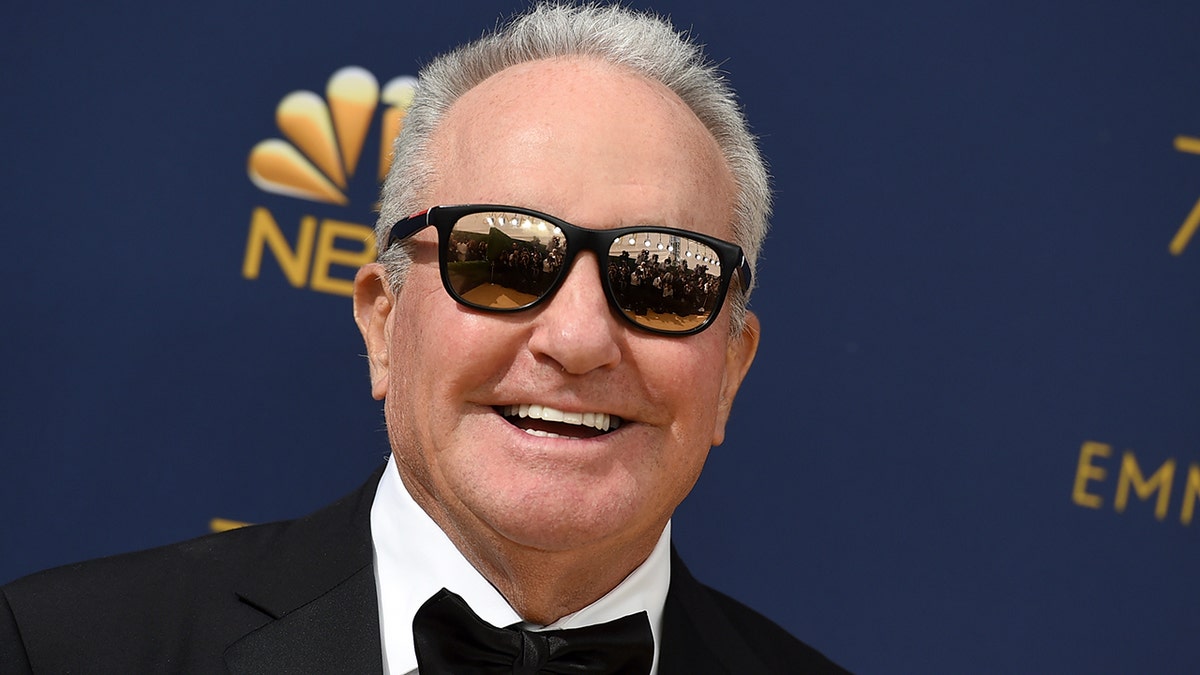 Jost followed suit with a line about what the times were like during the first Emmy Awards in 1949, noting that people back then all agreed Nazis were bad.
"Netflix, of course, has the most nominations tonight. And if you're a network executive, that's the scariest thing you can possibly hear," Jost continued. "Except maybe, 'Sir, Ronan Farrow is on line 1.'"
HENRY WINKLER WINS FIRST EMMY IN 42 YEARS
They also made a jab at Roseanne Barr mocking her politics that she claims got her fired from her self-titled ABC reboot.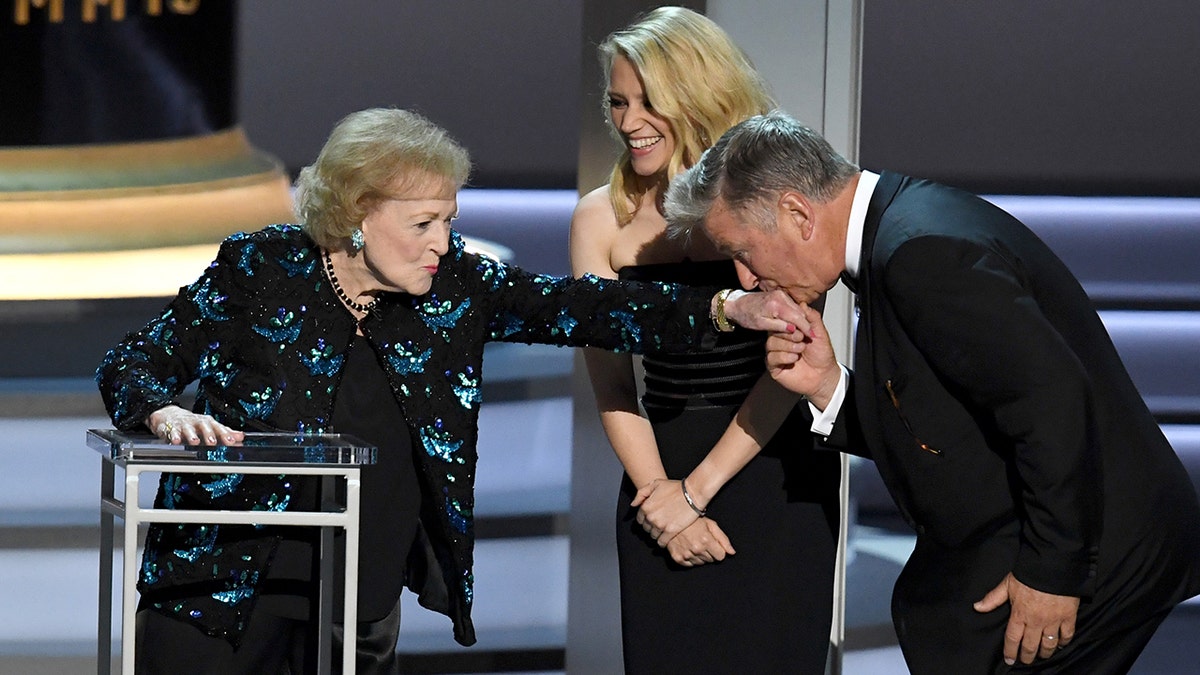 When the opening was done, the first award was given to former "Happy Days" star Henry Winkler for best supporting actor in a comedy series for his role in HBO's "Barry."
After that, "Marvelous Mrs. Maisel" took home the next four categories with Alex Borstein winning best supporting actress in a comedy and series creator Amy Sherman-Palladino with a pair of wins for directing and writing for a comedy series. The show's star, Rachel Brosnahan, took home the coveted trophy for best lead actress in a comedy series.
The star used her time to encourage viewers and fans to get out and vote in the upcoming midterm elections.
The "Mrs. Maisel" winning streak was broken by "Barry" once again, with creator and star Bill Hader taking home the award for best lead actor in a comedy series.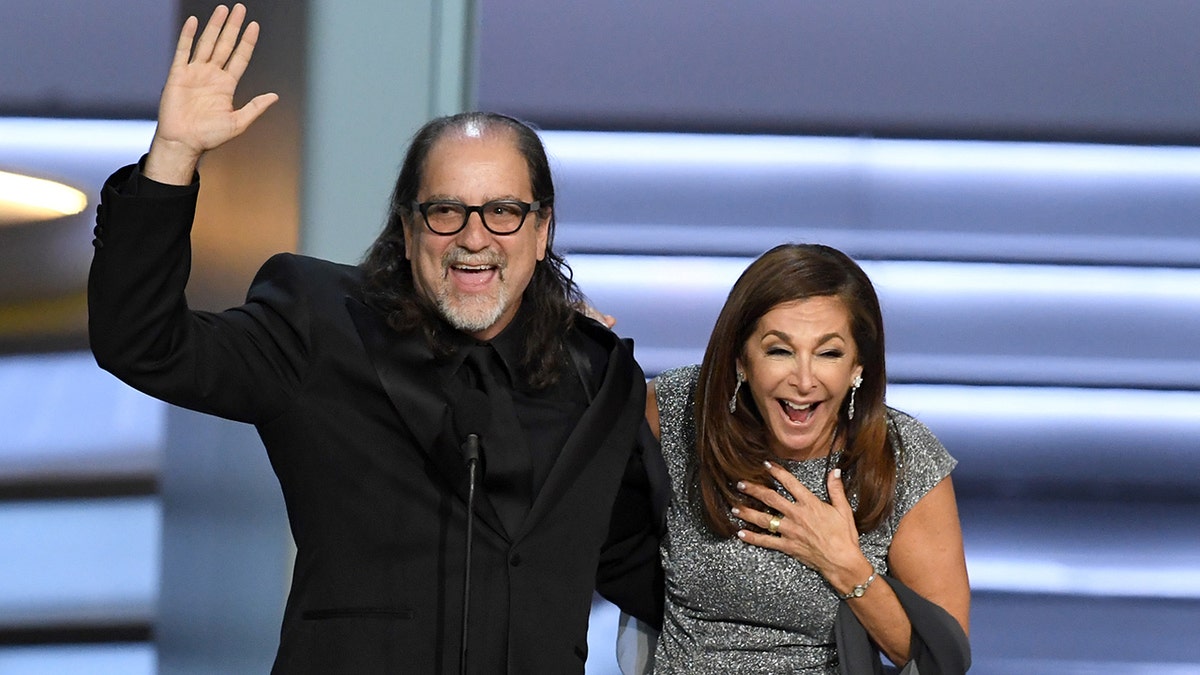 DIRECTOR GLENN WEISS PROPOSES TO GIRLFRIEND AFTER WINNING EMMY
Later in the show, McKinnon took the stage again, this time flanked by Alec Baldwin. Together they gave special mention to actress Betty White, who has been in attendance at many Emmy Awards in the past.
"Little did I dream then that I would be here and it's incredible that I'm still in this business, and you are still putting up with me," White, 96, told the crowd to thunderous applause. "No please, I'm thanking you. It's incredibly that you can stay in a career this long and still have people put up with you. I wish they did that at home."
Notably, Darren Criss, who is of Filipino descent, won best lead actor in a limited series for his role in "The Assassination of Gianni Versace," making him the second person of Asian-American to take home an acting award after Riz Ahmed won for "The Night Of" in 2017.
The star ended his speech with the simple message, "Go blue."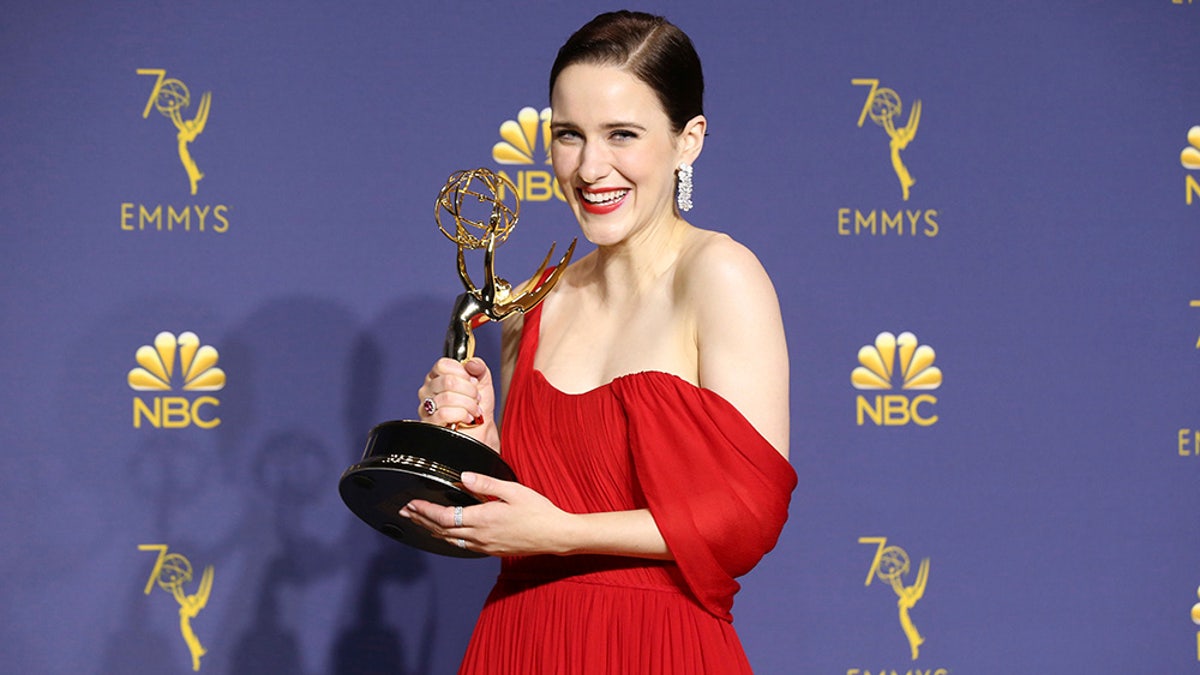 EMMYS HOST MICHAEL CHE SAYS THE ONLY WHITE PEOPLE WHO THANK JESUS AT AWARD SHOWS ARE REPUBLICANS, 'EX-CRACKHEADS'
In a night of surprises, perhaps none was bigger than director Glenn Weiss' speech after winning best directing for a variety special for his work on the 2018 Oscars. He took the stage to reveal that his mother passed away two weeks prior. Just when it seemed like his speech would end on a down note, he shocked the crowd with a surprise proposal to his girlfriend.
"You wonder why I don't like to call you my girlfriend," he said. "It's because I want to call you my wife."
With that, his girlfriend, Jan Svendsen, joined him on stage.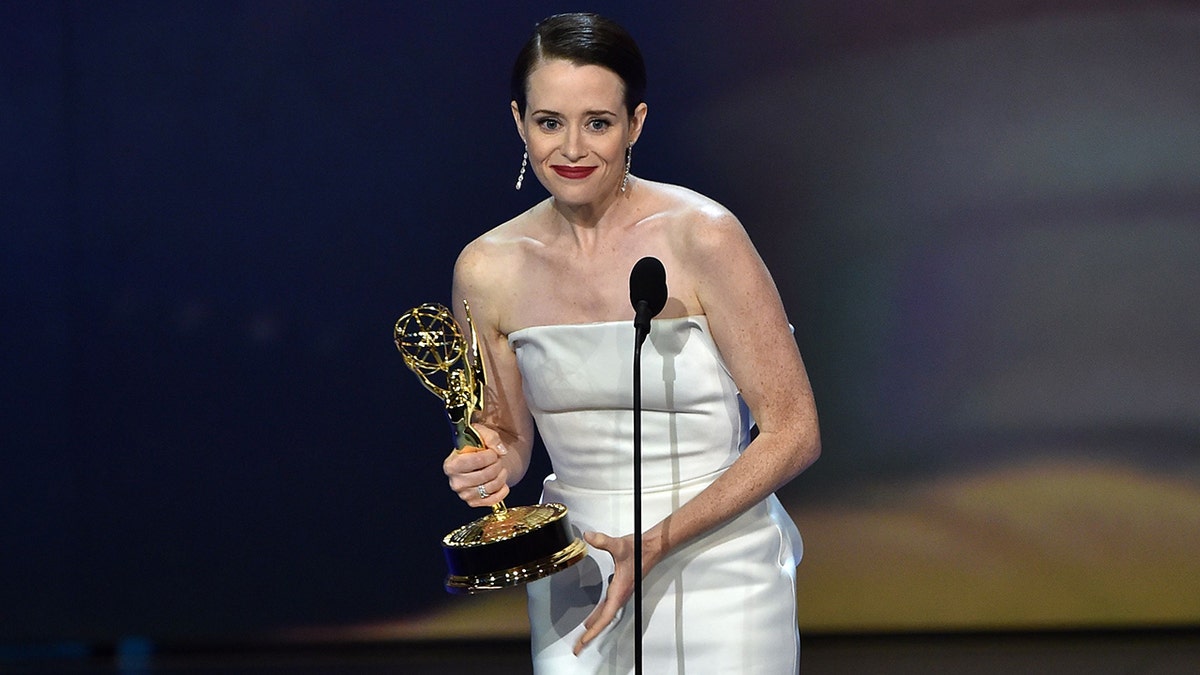 "This is the ring that my dad put on my mom's finger 67 years ago. And to my sisters and brothers, I didn't swipe it, dad knows I have it… Jen, I want to put this ring that my mom wore on your finger."
She said "yes."
Politics returned when Samantha Bee and Taraji P. Henson presented the Emmy for best supporting actor in a drama series to "Game of Thrones" star Peter Dinklage. Before announcing the award, the two presenters engaged in a bit of political banter that indirectly mentioned Donald Trump.
'BLACK-ISH' ACTRESS JENIFER LEWIS DONS NIKE SWEATSHIRT AT EMMY AWARDS
"I've been watching this very shocking dystopian drama called 'the news,'" Bee said. "I'm on approximately Season 9,000. It gets darker and darker but I can't stop watching. You know, they really need to recast the lead, I prefer Robin Wright."
The joke was a reference to the recasting of Kevin Spacey as the president on "House of Cards" following allegations of sexual misconduct.
Dinklage thanked his co-stars and creator George R.R. Martin.
Lead actress in a drama series went to Claire Foy for her role in "The Crown." While accepting the award, Foy acknowledged Sandra Oh, who would have been the first actress of Asian descent to win an award for acting had she won the category.
Before cutting to a commercial break, Jost took a serious moment to encourage viewers to donate to relief efforts to help people in North and South Carolina who were affected by Hurricane Florence.
Continuing its winning-streak, and solidifying its place as the highest grossing Emmys show ever, "SNL" took home the award for best variety sketch series, besting "At Home with Amy Sedaris," "Portlandia," "Drunk History," " Tracey Ullman Show" and "I Love You, America With Sarah Silverman."
Of the crop of light night shows nominated for outstanding variety series, "Last Week Tonight With John Oliver" took home the trophy yet again.
The Associated Press contributed to this report.