Embarrassment for NBC's Lester Holt as struggling 'Nightly News' sinks in ratings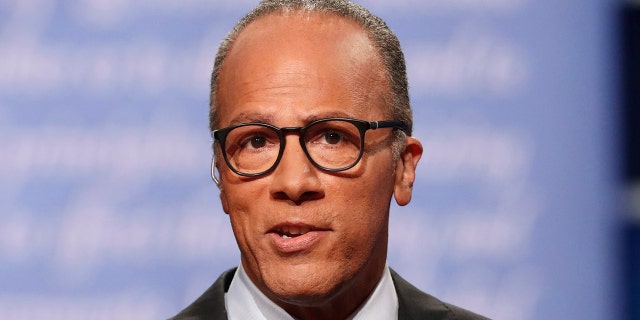 Lester Holt's embattled "Nightly News" program hit a new low last week -- finishing behind ABC's "World News Tonight with David Muir" among the key demographic for the second consecutive week while continuing its overall losing streak.
It's the latest sign that Holt has never recovered from the presidential debate he moderated in the fall of 2016, when he badgered Donald Trump, angering some NBC viewers. Holt also was the object of global ridicule earlier this year when visited North Korea and appeared to be badly duped by the dictatorial regime there.
It's particularly embarrassing for NBC to lose again in the "key demographic" of viewers ages 25 to 54. While NBC News' two major broadcasts, "Nightly News" and "Today," have been consistently losing to ABC News in recent years in total viewers, the Peacock Network has been clinging to victories in the key demographic as a sign that its news division still has juice. In a recent press interview about NBC News' problems, a spokesperson claimed the network's shows were all "number one," presumably referring to the demo wins.
"Nightly News" has now lost the total viewer crown to ABC for 16 straight weeks and 32 of the 36 weeks of the current season. During the week of May 28, "World News Tonight" averaged 8.2 million viewers compared to 7.6 million for NBC's struggling newscast. Among the key demo, ABC narrowly prevailed by averaging 1.66 million demo viewers compared to 1.64 million for Holt's newscast.
Last month, Holt embarked on what one NBC insider called a "desperation tour," hosting his broadcast from different cities where NBC's audience research experts believed he can score some new viewers. NBC billed the promotional venture as "NBC Nightly News: Across America," and made stops in Portland, Chicago, Denver, Pittsburgh and Raleigh.
"CBS Evening News with Jeff Glor" finished third, as usual, in both total viewers and the demo amid a New York Post report that Tiffany Network executives could soon look to replace its unknown anchor as "panic mode" sets in.
Last month, Media Research Center Vice President Dan Gainor told Fox News that ABC, NBC and CBS are all "suffering because none of their anchors has the name, the reputation and the gravitas of previous anchors," pointing to Holt as an example of the problem.
"I bet if you did man-on-the-street interviews, not one person in 10 could name any of the evening news anchors," Gainor said. "Personality and pizzazz are viewed as important."
ABC's "WNT" recently topped "Nightly News" as the most-watched newscast in the first quarter of 2018, marking the first time ABC won a Q1 in 19 years. ABC averaged over 500,000 more viewers than NBC on a nightly basis, the largest viewer advantage over "Nightly News" in 22 years, according to TVNewser.
Critics often point to Holt's widely panned performance moderating a presidential debate between Donald Trump and Hillary Clinton in Sept. 2016 for the decline in "Nightly News" viewers. During the debate, Holt questioned Trump aggressively about the racially charged issue of police "stop and frisk" policies while, critics say, he lobbed softballs at Clinton.
Holt also suffers from "Nightly News" being part of the same operation that runs MSNBC. As more NBC News stars such as Chuck Todd and Andrea Mitchell embrace MSNBC's left-wing ethos, it's been harder for NBC News (and Holt's broadcast, by extension) to maintain any pretense of objectiivity.
The slumping "Nightly News" is the latest black eye for embattled NBC News Chairman Andy Lack, whom Comcast honchos reportedly want to replace by the end of the year after a series of public relations debacles. Lack has faced a laundry list of problems in recent memory, ranging from criticism that his department was oblivious to Matt Lauer's sexual misconduct after an internal review to MSNBC star Joy Reid coming under fire for homophobic and hateful entries on her now-defunct blog.
Lack's department also famously refused to publish Ronan Farrow's investigation of Harvey Weinstein this past fall, which ultimately appeared in the New Yorker and won the coveted Pulitzer Prize.
Farrow has said he will finally tell his side of the story in an upcoming book called, "Catch and Kill," which is sure to create a whole new batch of negative headlines for the once-proud NBC News.