Elton John to attend Prince Harry and Meghan Markle's wedding, cancels concerts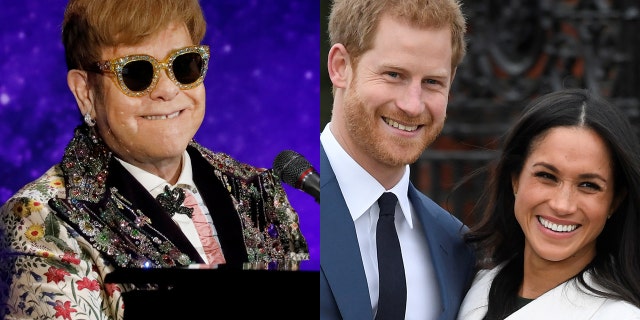 Sir Elton John has no shortage of hats.
And he might just need to pack his most extravagant as he's on his way to Prince Harry and Meghan Markle's wedding.
The Rocket Man has canceled two Las Vegas gigs on the same May weekend as the royal nuptials, freeing him up to attend or even perform.
John told the Sun last month in New York he was keen to be at the ceremony, to be held at St. George's Chapel at Windsor Castle, and was just waiting for the nod from the couple.
He said: "I don't know. I haven't even been — no one's been asked.
"I'm playing in Vegas, so I don't know what's going to happen.
"It will be nice because I love him very dearly."
John was due to play concerts at The Colosseum at Caesars Palace on Friday, May 18, and Saturday, May 19, but has quietly canceled the dates so he can fly back for the ceremony that Saturday.
The singer was a close friend of Harry's mother, Princess Diana, and was among a handful of celebrities to attend Prince William and the Duchess of Cambridge's wedding at Westminster Abbey in 2011.
It was the same venue where he famously sang "Candle in the Wind" at Diana's funeral in 1997.
And it will clearly be another emotional day for John when Harry ties the knot in May.
He told John he was "in love" with Markle when they spent time together at Google Camp in Italy last summer.
Speaking about the prince and his brother, William, he said: "We're working very, very closely on AIDS projects with him. And both of those boys are very special to me because of their mother. He's a good boy.
"His heart is in the right place and all you want is for people to be happy."
John will certainly be able to fill the dance floor at the reception.