Dolores O'Riordan, beloved Cranberries singer, dies suddenly at 46
Singer Dolores O'Riordan, of the Irish band The Cranberries, has died at age 46.
Her publicist Lindsey Holmes told the Associated Press that O'Riordan died suddenly Monday in London, where she was recording.
"No further details are available at this time," Holmes said.
Holmes says the singer's family is "devastated" by the shocking news.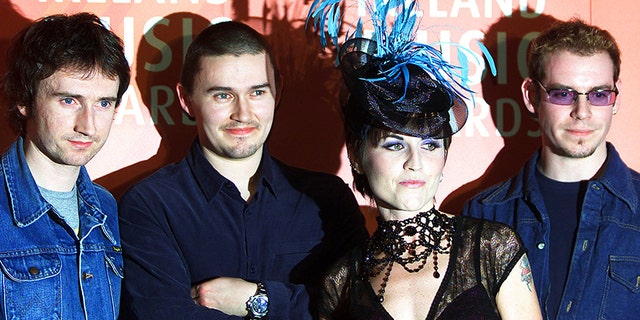 Formed in Limerick, Ireland at the end of the 1980s, The Cranberries became international stars in the '90s with hits including "Zombie" and "Linger" that fused the alternative rock edge with Celtic-infused pop tunefulness.
Irish President Michael D. Higgins said O'Riordan and the band "had an immense influence on rock and pop music in Ireland and internationally."
"To all those who follow and support Irish music, Irish musicians and the performing arts, her death will be a big loss," he said in a statement.
O'Riordan was The Cranberries' chief lyricist and co-songwriter, and her powerful, sometimes wailing, voice was key to the band's distinctive sound.
The band split up in 2003 but reunited several years later. The Cranberries released the acoustic album "Something Else" in 2017 and had been due to tour Europe and North America. The tour was cut short because O'Riordan was suffering from back problems.
In May 2017, O'Riordan opened up about her singing career in an interview with the Irish News.
"I've been singing since I was 5 years old," she told the Irish News. "By the time I was 12, I was writing my own songs so, yeah, music has always been part of me. To be honest, I've never imagined doing anything else. I think at one time though, my mum, who's deeply religious, might have had a notion of me becoming a nun!"
The mother of three has been open about her battle with depression in the past.
"There have been times when I've struggled. The death of my father and mother-in-law was very hard. Looking back, I think depression, whatever the cause, is one of the worst things to go through. Then again, I've also had a lot of joy in my life, especially with my children. You get ups as well as downs. Sure isn't that what life's all about?"
In 2014, O'Riordan was accused of assaulting three police officers and a flight attendant during a flight from New York to Ireland. She pleaded guilty and was fined $6,600.
Medical records given to the court indicated she was mentally ill at the time of the altercation. After her court hearing O'Riordan urged other people suffering mental illness to seek help.
O'Riordan is survived by her ex-husband, the former Duran Duran tour manager Don Burton, and their three children.
Celebrities took to social media to react to the news of O'Riordan's sudden death.
The Associated Press contributed to this report.