'District 9' Takes Off With $37M Debut Weekend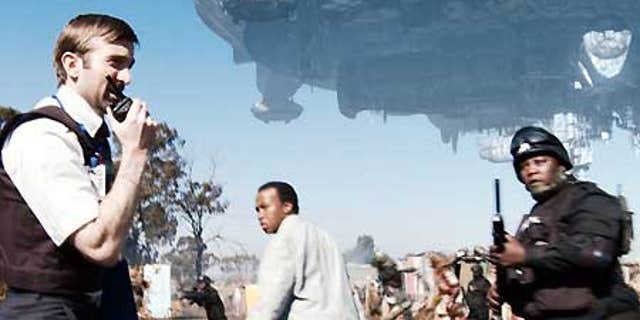 LOS ANGELES – The first-time director and cast of unknowns of the acclaimed sci-fi thriller "District 9" have given Hollywood a late-summer box-office boost.
The Sony release produced by "Lord of the Rings" director Peter Jackson led the weekend with a $37 million debut, according to studio estimates Sunday.
"District 9" is the debut feature from commercial and music-video director Neill Blomkamp, who co-wrote the tale about extraterrestrials forced by humans to live in squalor in a ghetto in South Africa.
The movie built audience interest with a clever marketing campaign playing up the theme of prejudice against aliens, including posters instructing citizens to report non-humans and ads on bus benches stating that the seats are for humans only.
"Everybody was like, 'What is this?' There was a big question mark in people's minds," said Rory Bruer, head of distribution for Sony. "It did really pique their interest and drove them to the Internet and elsewhere to discover what's going on."
The previous weekend's No. 1 movie, Paramount's "G.I. Joe: The Rise of Cobra," slipped to second place with $22.5 million, raising its 10-day total to $98.8 million.
Another sci-fi tale, the Warner Bros. romance "The Time Traveler's Wife" starring Eric Bana and Rachel McAdams, opened a solid No. 3 with $19.2 million. The film joined the previous weekend's "Julie & Julia" as a choice for women, with females accounting for 76 percent of its audience.
"District 9" and "Time Traveler's Wife" led a wave of five new wide releases for mid-August, when Hollywood's summer output normally is petering out. The rush continues next weekend with another surge of new releases, led by Quentin Tarantino's World War II saga "Inglourious Basterds."
"It's getting very crowded, and it's these films that want to compete in the summer time frame but can't compete in the sweet spot of summer," said Paul Dergarabedian, box-office analyst for Hollywood.com. "Opening 'District 9' against 'Star Trek,' that would not be a good strategy. But to release it now makes sense. August is the month of opportunity for films that in other months of summer would get slaughtered."
The weekend's other debuts: Paramount Vantage's used-car comedy "The Goods: Live Hard, Sell Hard," opening at No. 6 with $5.4 million; Disney's animated adventure "Ponyo" from animation master Hayao Miyazaki ("Spirited Away"), coming in at No. 9 with $3.5 million; and Summit Entertainment's teen rock 'n' roll tale "Bandslam," which tanked at No. 13 with just $2.3 million despite a cast that includes Vanessa Hudgens of "High School Musical."
It was Hollywood's second weekend in a row of rising revenues after a monthlong slide compared with summer 2008, when the Batman blockbuster "The Dark Knight" was smashing box-office records.
Overall receipts came in at $142 million, up 14 percent from the same weekend a year ago, when "Tropic Thunder" debuted at No. 1 with $25.8 million.
Revenues since the summer season opened the first weekend of May are at $3.77 billion, just a fraction below where Hollywood was last summer, according to Hollywood.com.
Factoring in higher ticket prices, admissions are off 4 percent compared to summer 2008, though movie attendance remains strong given how "The Dark Knight" dominated a year ago. The biggest blockbuster since "Titanic," "The Dark Knight" topped out with a domestic haul of $531 million.
"Considering we had a movie of that magnitude in the mix, I think this summer has held up very well for itself," said Dan Fellman, head of distribution for Warner Bros., which released "The Dark Knight."
Estimated ticket sales are for Friday through Sunday at U.S. and Canadian theaters, according to Hollywood.com. Final figures will be released Monday.
1. "District 9," $37 million.
2. "G.I. Joe: The Rise of Cobra," $22.5 million.
3. "The Time Traveler's Wife," $19.2 million.
4. "Julie & Julia," $12.4 million.
5. "G-Force," $6.9 million.
6. "The Goods: Live Hard, Sell Hard," $5.4 million.
7. "Harry Potter and the Half-Blood Prince," $5.2 million.
8. "The Ugly Truth," $4.5 million.
9. "Ponyo," $3.5 million.
10. "500 Days of Summer," $3 million.