Disney surprises fans with first 'Solo: A Star Wars Story' teaser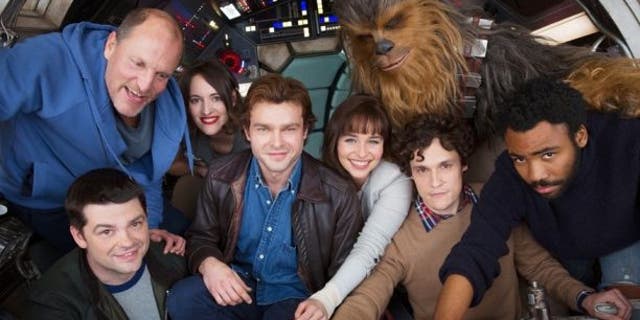 After months of secrecy, Disney surprised fans by debuting the first teaser trailer for the newest "Star Wars" movie, "Solo," during Super Bowl 52.
The teaser came during one of the commercial breaks announcing a more complete trailer coming on Monday. However, it gives fans their first look at Alden Ehrenreich as the title character, originally played by Harrison Ford, as well as Donald Glover's Lando Calrissian, originally played by Billy Dee Williams. "Game of Thrones" actress Emilia Clarke was also featured in the trailer.
"So you want to make a difference? Trust me, you're going to love it," an Empire soldier tells a scruffy-haired man with his back to the camera. "What branch are you interested in joining?"
"I want to be a pilot," the man says. "Best in the galaxy."
"Your name?" he asks, just before the title card reading 'Solo' is revealed.
As if that wasn't enough for fans, the teaser ends with Solo's famous partner, Chewbacca, putting his hand on his young friend's shoulder.
As previously reported, the follow up to the "Star Wars" anthologies that kicked off with "Rogue One" has been the subject of a lot of rumor and speculation after what seemed like attempts to keep progress on the movie a secret. This came after Ron Howard stepped in for two directors that left the project unexpectedly.
You can see the teaser below.