Disney hits the bull's-eye with new princess tale 'Brave'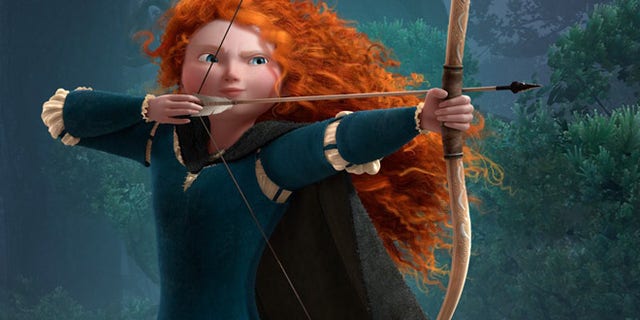 Overflowing with heart, vibrant color, thrilling adventure, and with a bold new protagonist to add to the Disney canon, Pixar's "Brave" is a wonderfully unique spin on the classic princess tale.
"Brave" is Pixar's first non-sequel film since 2009's "Up," and at its core is a very endearing mother-daughter story. There's no Prince Charming. No fancy ball. "Brave" is a more personal princess tale about the bond between a mother and her daughter.
Merida (Kelly Macdonald) is "Brave's" bow and arrow-toting fiery redheaded princess who refuses to adhere to tradition and be married off to an unknown suitor, much like her own mother, Queen Elinor (Emma Thompson). Rebelling against her family, Merida flees her home and encounters a witch who grants her the wish of changing her mother's outlook on betrothal. Merida gets more than she bargains for when her wish becomes a curse and Elinor is transformed into a bear.
To make matters worse, Merida's father (Billy Connolly) has been hunting a particular bear for years and mistakes his transformed Queen for his furry nemesis.
Pixar excels on almost every technical level, but more importantly, they also hit the bull's-eye with character and emotion every single time. "Brave" is no exception. The relationship between Merida and Elinor is universal. It's a struggle between regret and independence; seemingly adult themes that writer-directors Mark Andrews and Brenda Chapman handle with finesse. Yet the real challenge, which Pixar aces, is keeping that dynamic and emotion alive even when Elinor changes form. The interaction between Merida and her transformed mother is often charming and funny, and at moments, frightening.
The voice talents of Macdonald and Thompson (bursting with Scottish brogues) bring so much life to Merida and Elinor. Merida is one of the strongest and well-defined Disney princesses yet. She is brave but vulnerable, making her much more human. She speaks her mind and can outshoot any male archer. Merida will easily become a new champion among Disney princesses for a new generation.
"Brave" is missing some of the sharp wit that has become a staple of the studio. That's not to say the film lacks humor, but the comedic elements do feel generic compared to previous Pixar films. What it lacks in laughs is certainly made up in heart, breathtaking animation (although some of the interior scenes are quite dark and tough to see in 3D) and a lovely Celtic-flavored score by Patrick Doyle.
Be sure to arrive on time (why wouldn't you, anyway?) to catch the Oscar-nominee "La Luna," a real gem of a Pixar short, which runs before "Brave." "La Luna" tells the brief story of a young boy on a journey to the moon. This short is a feast for the senses and is a beautiful example of the sheer joy of using animation as a means of storytelling.