Disney Diva! Selena Gomez drops F-bomb and storms off stage at Jingle Ball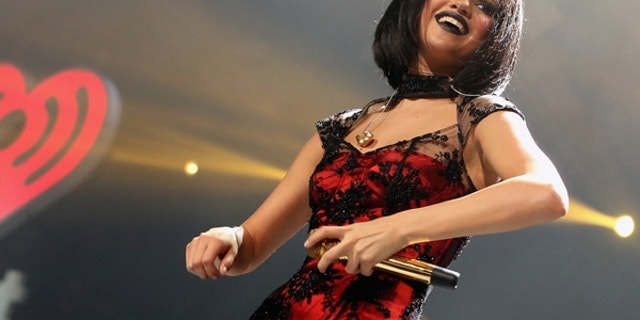 Some of the year's biggest names hit the stage at KIIS-FM's annual Jingle Ball on Friday night, but it was Selena Gomez who stole the show with an on-stage tantrum.
From the beginning of her performance, Gomez was visibly upset with audio malfunctions. Things took a turn for the worse when the "Come and Get It" singer dropped the F-bomb yelling "what the f--k?" to crew members.
She returned to the stage a short time later apologizing to the audience. "Are you guys having a good night? I promise, a lot cooler people are gonna come out tonight," she told the crowd. She then promised to perform two more hits, but pulled the plug after just one song.
In perhaps her greatest rockstar moment to date, Gomez dropped the mic and walked off the stage.
Ariana Grande also experienced her share of audio problems, but handled the situation like a pro. She profusely apologized for the issues and got in a dig seemingly directed toward Gomez's apparent lip-syncing saying, "at least you know I wasn't singing to a track." Let the Gomez vs Grande feud begin.
Audio issues aside, there were plenty of highlights to go around.
Teen heartthrob, Austin Mahone, returned for one of his first appearances since canceling his tour earlier this fall.
"The Jingle Ball tour is kind of helping me get back into it because I haven't really performed since then. I'm really excited about the tour. Hopefully I don't get sick again, knock on wood," Mahone told Celebuzz.
Macklemore & Ryan Lewis were riding high after being nominated for seven Grammys earlier in the night. Macklemore expressed his gratitude saying, "We just got nominated for Song of the Year for 'Same Love,' I never thought I would say that out loud so thank you to everyone who has supported us this past year." The duo proved they were worthy of the noms with one of the evening's best performances.
Robin Thicke celebrated his three Grammy noms telling everyone, "Dreams do come true, sometimes they just take a little longer for some of us." Thicke was joined by special guest, T.I., for an energetic performance of 2013′s biggest single, "Blurred Lines."
Last but not least, Miley Cyrus brought the Staples Center to their feet for the final performance of the night. Kicking things off with the fan favorite "Party in the USA," Cyrus got up to her usual antics while twerking with a sexy Santa.
Cyrus later stripped things down for a performance of the Lana Del Rey hit "Summertime Sadness" and an emotional performance of "Wrecking Ball."
Whether you love her or hate her, Cyrus proved yet again why we just can't stop talking about her.
[youtube mo8PrsTfTTc]