Did Nyle DiMarco diss his 'Dancing With The Stars' competition?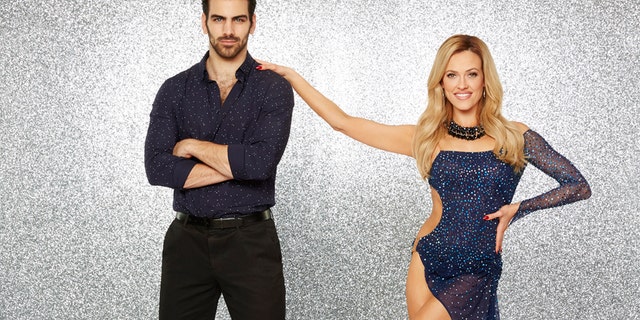 Deaf model Nyle DiMarco has been the inspirational highlight of "Dancing with the Stars" this season, turning in strong performances despite not being able to hear one note of music.
In fact, last week, the "America's Next Top Model" star earned season 22's first perfect 10 score for his emotional Viennese waltz, a performance that made his regular partner, Peta Murgatroyd, and his switch up partner, Sharna Burgess, cry tears of joy.
But on Monday night, DiMarco's rehearsal footage caused controversy as cameras caught a producer asking him about his competition.
Through his interpreter, the star said, "I think my competition right now is Val," meaning veteran dancer Val Chmerkovskiy, who is paired with "Good Morning America" weathergal Ginger Zee this season.
"It's not the celebrities—I'm looking at Val because I don't really necessarily see them being better than me.
"I'm just feeling confident," DiMarco added.
Also in his rehearsal clips, DiMarco spoke of himself as "a front runner."
However, after his Monday night dance with Murgatroyd — a quickstep based on Jim Carrey's movie "The Mask" — judge Len Goodman admonished him for his attitude.
"You're a good dancer, but don't start saying 'I'm as good as Val,' because you'll just annoy people," ranted Goodman. "It's ridiculous."
He also said DiMarco, who donned a specially made green prosthetic mask for the routine, had lost control of the dance and his toes turned in, while Carrie Ann Inaba complained, "Your frame was very broken."
DiMarco earned 25 points out of a possible 30, good only for a tie for fourth place on Monday.
A stringent "DWTS" rehearsal kept the reality star and partner Murgatroyd from speaking with press after the show, but others in the cast shrugged off DiMarco's comments to FOX411.
Jodie Sweetin's partner Keo Motsepe said, "Listen, if he compares himself to a pro dancer, and that's how he feels, it's all good."
But Boyz II Men singer Wanya Morris, who earned the night's highest score, 29, insisted backstage that DiMarco's comment comparing himself to Val "was a joke."
Morris' partner Lindsay Arnold concurred, "Of course it was! I think it was more, 'I'm aspiring to be Val' and I think that's amazing. I think all of these celebrities should be doing that, aspiring to be a pro."
According to Arnold, Goodman, who celebrated his 72nd birthday on the show Monday night, called out DiMarco for his rehearsal comments because "I think Len didn't have that kind of younger sense of humor."
And Burgess, who performed with DiMarco during last week's "switch up," said, "I think everyone has to understand the sarcasm and the humor in that. This is a TV show that can play things in any different way and Nyle had a funny moment in rehearsals. I think for anyone to take that seriously—that Nyle thinks he's as good as Val, is ridiculous.
"He is the sweetest, most humble person on the planet and he's incredibly talented. So what, he wants to be like Val? That's cute, not cocky," Burgess concluded.