Did NBC use Golden Globes to rekindle Matt Lauer's mojo?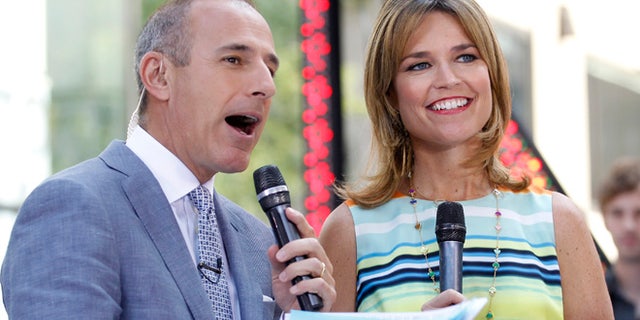 LOS ANGELES – With the fallout over Ann Curry's axing as co-anchor of NBC's "Today Show" still plaguing Matt Lauer, it seems NBC is pulling out all the stops to get him back into the public's good graces, as for the first time since 1996, Lauer took the helm interviewing Golden Globes arrivals.
The network flew out its central "Today Show" team to conduct the red carpet interviews, with Lauer and Savannah Guthrie stationed just 20 feet from where stars are dropped off, and Natalie Morales and Al Roker venturing out into the mayhem.
But NBC's pre-show telecast centered primarily on Lauer interviewing celebrities, including what appeared to be a perfectly choreographed opportunity to make amends with nominee Anne Hathaway.
Last month, Lauer came under fire when he questioned the "Les Miserables" star on unfortunate paparazzi shots showing a very personal wardrobe malfunction, sans underwear. But on Sunday, the two exchanged polite chatter and Lauer offered Hathaway a soft "thank you" as she continued down the press line.
But that wasn't where the spotlight on Lauer ended.
In a room filled to the brim with Hollywood's hottest talent, the roving camera still managed to spot Lauer and Guthrie in the crowd during the show, and air them taking in the festivities.
Twitter was abuzz with Lauer questions pertaining to why NBC insisted on highlighting his presence throughout the telecast.
"A room packed with some of the biggest names in Hollywood and they cut to Matt Lauer," wrote one, while another weighed in: "Ugh: cut-away to Matt Lauer & SGuth reinforces spot-on rant earlier this week about NBC News selling its soul for synergy."
A "Today Show" rep called all the talk "nonsense."