Did Luke Bryan punch a fan in his audience?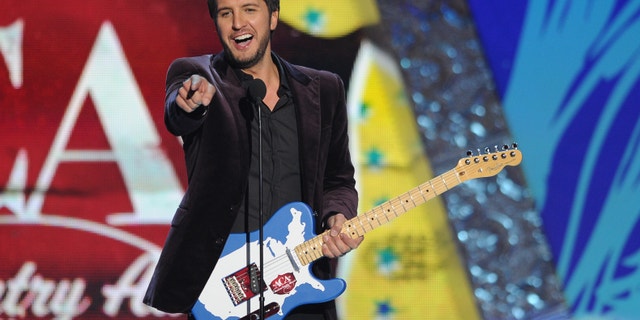 Luke Bryan appears to have gotten into an altercation with a fan during the superstar's performance at Charlie Daniels' 80th Birthday Volunteer Jam on Wednesday night (Nov. 30). A video has surfaced that seems to show the superstar jumping from the stage to slap a fan up front during his set at Nashville's Bridgestone Arena.
Bryan was part of an all-star lineup for the record-setting evening, which drew more than 15,000 fans and raised $245,000 for the Journey Home Project, which helps U.S. military veterans in various aspects of their lives. He performed after sets from 3 Doors Down, Travis Tritt, Larry the Cable Guy, Kid Rock andChris Stapleton, and everything seemed to be going well until his time onstage took a shocking turn.
The singer had already run through "Rain Is a Good Thing," "Play It Again" and "Huntin', Fish' and Lovin' Every Day" when he closed his set with "Move." He careened around the stage for the high-energy closing song, and as the video above seemsto show, at one point during the performance Bryan stopped at the edge of the stage and looked down at a man in the very front, then abruptly jumped from the stage and apparently shoved him in the left side of the face with his right hand before just as suddenly returning to the stage to finish his song.
It's unclear why the altercation took place or what might have instigated it, but the man was removed from the concert directly after the incident, and the evening went on to finish with a set from Daniels, as well as several all-star jams, including Bryan joining the 80-year-old icon for "The Devil Went Down to Georgia."
More From Taste of Country
Randy Travis also surprised Daniels live by helping to present him with a humanitarian award for his extensive work with the military.
Taste of Country has reached out to Bryan's representatives for comment, but had not heard back at press time.
See Luke Bryan's Most Amazing Moments!