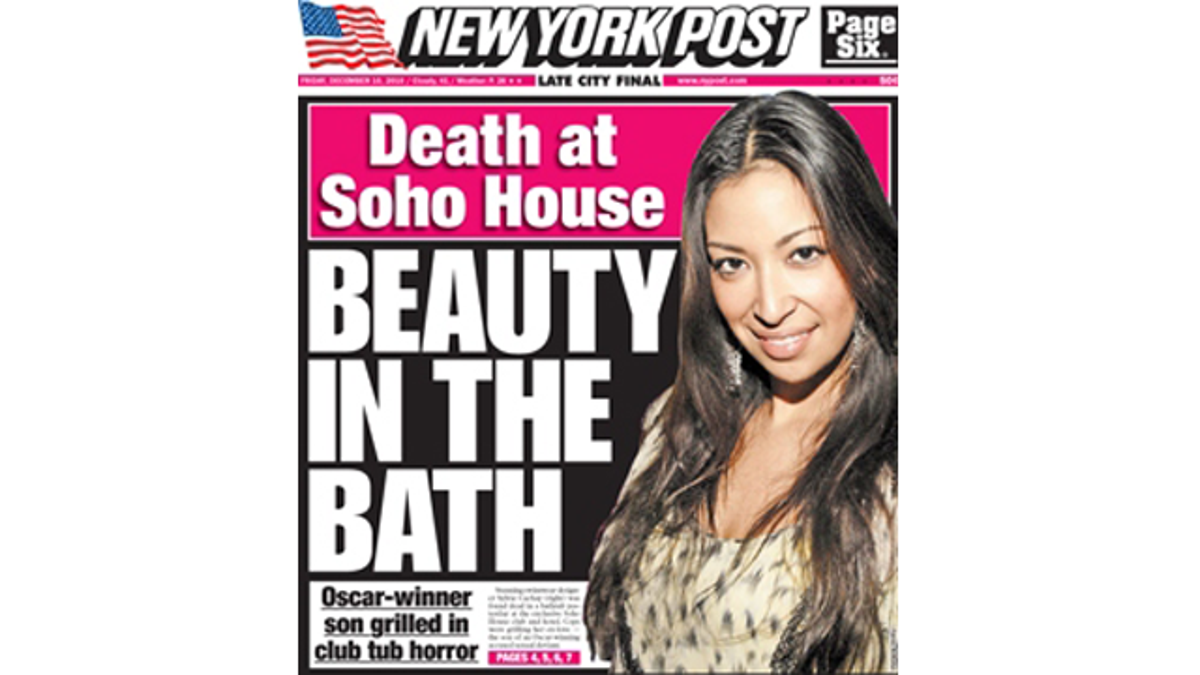 A swimsuit designer found dead in an overflowing bathtub in a chic Manhattan hotel was strangled and drowned, the medical examiner's office said Wednesday.
Sylvie Cachay was discovered half-clothed, face-up in a tub at the Soho House hotel on Dec. 9 after hotel staffers noticed water leaking from the ceiling below her room. She had been held underwater and strangled, the medical examiner's office said. The agency ruled the death a homicide.
Her boyfriend, Nicholas Brooks, the son of "You Light Up My Life" songwriter Joseph Brooks, was arrested and arraigned on charges of attempted murder and strangulation. The Manhattan district attorney's office declined to comment on how the medical examiners' findings might affect the case against Nicholas Brooks, 24.
Brooks' attorney, Jeffrey Hoffman, said he had not yet seen the medical examiner's report and would evaluate it when he does.
"Whatever it says is subject to testing by other professionals," he said. "We'll reach whatever conclusions after we can see for ourselves."
A bottle of prescription drugs was found in Cachay's room, but Grace Burgess, a spokeswoman for the medical examiner's office, would not say whether any drugs were found in the designer's system.
Brooks and Cachay, 33, had been dating for about six months. But she didn't consider him a boyfriend and was trying to break up with him, according to Susan Karten, a lawyer for her family. Prosecutors have said a letter found in Cachay's purse showed that Brooks hadn't accepted that the relationship was ending.
Brooks wasn't there when Cachay's body was found around 3 a.m., but he arrived shortly afterward to find police at the hotel. Brooks had left the hotel about 2:15 a.m.; he told investigators he had gone for drinks with a friend, police said.
Hoffman has said Cachay was "absolutely fine" when Brooks last saw her.
Brooks was indicted earlier this month, but prosecutors have not disclosed the charges, due to be made public Jan. 4. Regardless, prosecutors sometimes return to a grand jury and seek to update indictments as cases progress.
Meanwhile, Brooks is being held without bail.
The initial strangulation charge deployed a new state law that makes it a crime to choke someone, even if he or she isn't seriously hurt. Intended to combat domestic violence, the law took effect last month.
The case against Brooks compounds serious legal trouble for his family. His 72-year-old father is fighting charges of forcing himself on 13 women, many of whom had answered ads offering auditions for movie roles. He has pleaded not guilty to rape and other charges.
The elder Brooks won an Academy Award for best original song for the 1977 ballad "You Light Up My Life" and wrote and directed the movie of the same name. It is about a comedian who has a one-night stand with a director.
Cachay lived in an apartment in Manhattan's West Village and had a membership at the Soho House, an elite club and hotel that has hosted such stars as Nicole Kidman and Naomi Watts.
The designer, who grew up in both the U.S. and Peru, worked for Victoria's Secret before leaving in 2006 to start a swimsuit collection. She had recently been working at fashion houses again after the economy soured and she lost her backing.