Defiant ESPN star Jemele Hill on claim Trump is a white supremacist: 'I still stand by what I said'
ESPN's outspoken anti-Trump personality Jemele Hill appeared on ABC News' "The View" Wednesday to double down on her infamous tweet in which she called President Trump a "white supremacist," saying she stands by her comment.
"I probably did what you shouldn't do when you feel emotional, a little angry, which is go to Twitter. And I got into a dialogue… obviously everybody has seen the tweets, you know what I said," Hill said. "I did not expect in that moment that it was going to become what it became... it leads to the president personally calling me out."
Hill told the panel on "The View" that she stands by what she said, but she doesn't think "his supporters are white supremacists" as a whole.
"What I would say, though, is that they have the benefit of privilege to be able to distance and dissociate themselves from certain issues. Me, as a woman of color, I feel vulnerable to certain behaviors, certain policies and certain things that he's said and done," Hill said.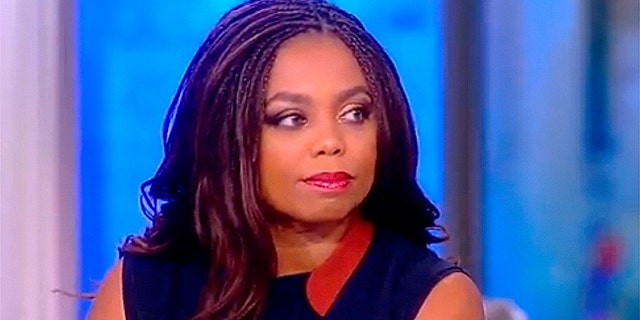 The ESPN star said that the feeling of vulnerability contributed to her controversial tweet and said that it's probably hard to understand her position if you're not in her situation. Hill then asked Trump supporters to understand that her perspective is coming from a place of vulnerability.
"In this time, and in this moment, it feels like people of color are under attack," Hill said.
Co-host Meghan McCain then asked Hill if she would consider Ben Carson a white supremacist, referring to past comments by the ESPN star that Trump surrounds himself with white supremacists.
"I wouldn't… I wasn't talking about Ben Carson. I think we know the names that I was talking about," Hill said. "Obviously Steve Bannon, I could go down the list of people who have at very least played footsie with white supremacists."
Back on Sept. 11, 2017, Hill tweeted, "Donald Trump is a white supremacist who has surrounded himself with other white supremacists." Hill also called Trump a "bigot," and "unqualified and unfit to be president." She added, "If he were not white, he never would have been elected."
"I still stand by what I said."
Hill's anti-Trump comments caught the attention of the White House and Press Secretary Sarah Sanders, who said she considered the rhetoric a "fireable offense." Trump even got involved himself, mocking Hill and ESPN's lackluster ratings.
"With Jemele Hill at the mike, it is no wonder ESPN ratings have 'tanked,' in fact, tanked so badly it is the talk of the industry!" Trump tweeted on Oct. 10, 2017.
ESPN initially declined to punish Hill for the tweet, but then sidelined her for two weeks in October when she violated the company's social media guidelines a second time by calling on fans to boycott the Dallas Cowboys' advertisers after owner Jerry Jones told players they would be benched if they did not stand up during the national anthem.
Last month ESPN re-assigned Hill from its flagship "SportsCenter" to a new role at The Undefeated, the company's site that covers the intersections of sports and race. ESPN has said the move was Hill's choice, but sports talk radio host Clay Travis tweeted that she was "booted" due to "collapsing ratings."
Travis had been in front of all-things Hill and speculated that she would be removed from "SportsCenter" weeks before it happened. Sports Illustrated media guru Richard Deitsch predicted that Hill's "tenure as a SportsCenter anchor" was "effectively over" back in October of 2017.
Both ABC, which broadcasts "The View," and ESPN are owned by parent company Disney.