David Arquette's attempt to be working Hollywood press at Oscars 'a little pathetic,' reporter says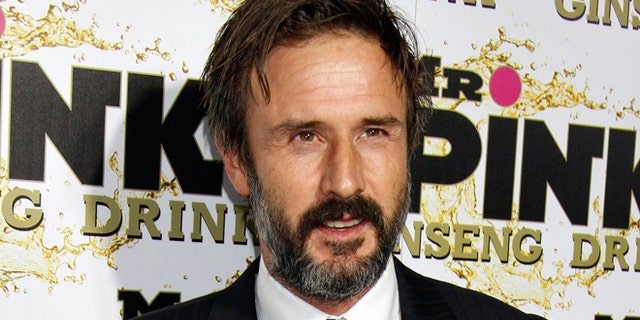 LOS ANGELES – While it has become quite the trend for celebrities to suddenly turn into red carpet hosts -- just ask Kristin Chenoweth and Kelly Rowland who swapped out (with mixed reviews) with veteran reporters Robin Roberts and Lara Spencer for the ABC Oscars pre-show -- actor David Arquette took the extra step and opted for a place in the actual working press room on Sunday night.
Complete with an authorized media credential, laptop and designated seat at the back of the room, Arquette's backstage presence had many scratching their heads. Why was the once prominent film star -- who was previously married to TV star Courteney Cox -- now studying his notes and raising his hand to ask the winner's questions?
It turns out Arquette was there to serve Howard Stern and his raunchy Sirius radio show ... and that meant no "ordinary" questions.
Just before the show kicked off, Arquette was overheard nervously expressing his desire to ask the "hard questions" assigned to him, but at the same time didn't want to come across as "disrespectful."
Yet the "Scream" star didn't hold back, first taking aim at Best Supporting Actor recipient Christoph Waltz, by randomly asking for his thoughts on the possibility of a black pope.
"It would be an exciting thing," Waltz responded with a smile. "I'm an adamant non-racist. I don't care whether the pope is black or white or whatever color. If we are non-racists then we have to stay non-racists all the way."
Arquette soon popped up again, and was given the green light to ask "Paperman" director John Kahrs a question regarding what he was most excited to receive in his official winners gift basket.
"I hear there are condoms in there. If you don't use them, I can," he quipped.
Well, that didn't go down so well with the Academy employees manning the room, as a representative promptly informed the press that they were to ask questions and not "have conversations."
However, Arquette was given another chance and took a more typical route to win back some trust.
"Who are you most excited about seeing tonight?" he asked the directors of "Brave."
For the most part, the sweetly smiling screen star seemed to enjoy the double takes as "fellow" reporters whispered and wondered what he was doing, but not everyone was pleased with the oddball line of questioning.
"It was initially disruptive and somewhat shocking, but ultimately it came off a little pathetic. As an actual working journalist, I was tempted to be offended but it seems as close as Arquette's ever going to get to the Academy Awards given his current career trajectory," one veteran entertainment reporter said. "I've interviewed Arquette my share of times and always found him generally pleasant if a little goofy, but as someone who's been on the other side of the velvet rope, you'd think Arquette might not want to disrupt his colleagues' biggest night of professional accomplishment with inane questions, or waste the time of a roomful of journalists who have a degree of influence over his public image."
By the end of the evening, it seems the Academy may have learned its lesson.
"Why aren't you calling on me? I'm serious this time," Arquette wailed to nobody in-particular after Best Actress Jennifer Lawrence left the podium and his attempts to be given the go-ahead to ask a question proved fruitless.
He tried again, waving his "171" sheet of paper and desperately pleading with Academy coordinators in the hopes of questioning Daniel Day-Lewis and Quentin Tarantino. Again, no avail.
"Quentin, Quentin," he screamed in frustration as the famous writer/director departed, his voice unheard. And when "Argo" honchos Ben Affleck and George Clooney left the room without so much as even knowing he was there, Arquette shook his head in utter disappointment.
"I'm going to have to see if I can talk to some people inside," he muttered, collecting his belongings.
Perhaps it's not see easy being on the "other side" of the Hollywood machine.