Critics: Some of Seth MacFarlane's Oscar jokes 'inappropriate,' 'sexist'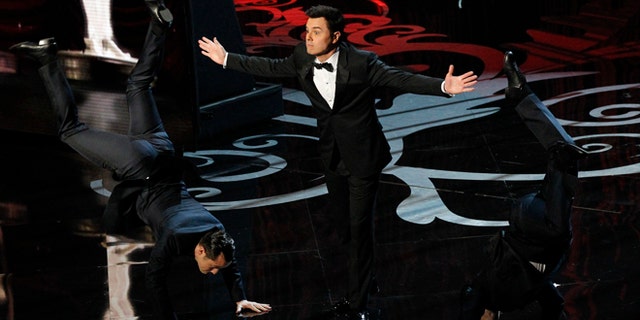 LOS ANGELES – It seems the Academy of Motion Picture Arts and Sciences paid attention to the notoriously edgy Golden Globes this year, opting for a racy opening as delivered -- with plenty of audience laughs -- by Oscar host Seth MacFarlane on Sunday night.
However, not everyone was humored by the ABC-broadcast monologue, which was peppered with such things as cocaine-snorting puppets and racial/domestic violence "jokes."
"Seth MacFarlane spoon fed sexism and likewise innuendo through song, setting a terrible example for young children watching the show," political and entertainment publicist Angie Meyer told FOX411's Pop Tarts column. "His opening monologue was rather inappropriate, providing a poor example of Academy Awards etiquette that's suitable for all audiences."
MacFarlane bantered with Hollywood great William Shatner, who appeared as his Star Trek character Captain Kirk on a drop-down monitor and attempted to give advice on how to improve the ceremony, mocking himself, the media and almost every A-lister in Tinseltown.
Among MacFarlane's zingers was a comparison between "Django Unchained" and a Chris Brown/Rihanna "date night," and a pondering whether the always-in-character "Lincoln" star Daniel Day-Lewis would have tried to free Don Cheadle if he had run across him during filming.
And then there was Shatner -- speaking from the future -- quipping that MacFarlane would be a member of the Los Angeles Gay Men's Chorus in a few years.
But what seems to have left parents and more conservative-minded viewers less-than-impressed was the song and dance entitled "We Saw Your Boobs," which saw MacFarlane calling out various actresses and the movies in which they exposed their bare chests.
While Jennifer Lawrence performed a mini fist-pump with pride when it was mentioned she had never gone topless, Charlize Theron angrily buried her head in her hand when her "Monster" nudity was chirped. (But if you look closely, Lawrence wore a strapped gown in the crowd shot, while she was in a strapless dress the whole night. Meanwhile Theron was wearing black during the song, yet she donned a pure white dress on the red carpet and during her dance with Channing Tatum immediately after. Hmmm. We smell a pre-tape!)
"The Oscars are supposed to be a celebration of the art of cinema, not a tribute to women who strip down in film," Meyer continued, while the Culture Media Institute's Matt Philbin told us if he had been watching with his kids, "it would have been awkward and embarrassing."
"The 'We saw your Boobs' song was juvenile, and then finishing it off with the LA gay men's choir would have invited some questions from a nine-year-old I'd prefer not to have to answer. The Sally Field 'Flying Nun was hot, maybe because it's forbidden,' was creepy in the extreme," Philbin said. "But it was just a warm-up for the later scene with 'Ted' talking about the big Hollywood orgy that would follow the Oscars (at Jack Nicholson's house.) Include the hosts later slap at 'the Christian right,' and it's pretty clear the show was calculated to offend."
MacFarlane's provocative jabs scripted throughout the telecast included comments like "the show isn't gay enough yet," and a proclamation that nine-year-old Best Actress nominee Quvenzhané Wallis still has sixteen years before she's deemed "too old" for George Clooney, which also attracted quite the online upset.
"Has anyone told the Oscars people that there are families watching their show with kids?" tweeted D Wasserman Schultz, while others referred to MacFarlane's Wallis "joke" as "disgusting" and a reason to "throw him in jail." Some even took to Twitter to express shock that Hollywood actresses were "laughing at his degrading remarks about women."
Of course not everyone hated it. Many praised the "Family Guy" creator's performance and found the envelope-pushing approach a refreshing change from the straight-laced theme evident in years past.
"It was a perfect stage setter for what he'd promised to deliver all along: his trademark edgy, pop culture-skewing humor blended neatly with old-fashioned entertainment and a respect for Hollywood tradition," said entertainment expert, Scott Huver. "The opening was a strong start to set the irreverent but still respectful tone that would characterize the rest of the show. And hey, who doesn't love Bill Shatner?"
Several viewers tweeted that MacFarlane was quite simply "awesome," "funny as hell", and quipped that the critics need to "lighten up."
Even the Academy itself didn't escape his wrath.
MacFarlane (in a kind of Ricky Gervais style) poked fun at the famed organization at every possible opportunity, from acknowledging Ben Affleck's famous snub in the Best Director category, to how excessive time length of the ceremony: "Well, Quvenzhané was nine when this show started."
On that note, this year it lasted three hours and thirty-five minutes, one of the longest telecasts of the past 20 years.
Yawn.