Dancing With the Stars: William Levy Comes Up Short With Rocked Out Jive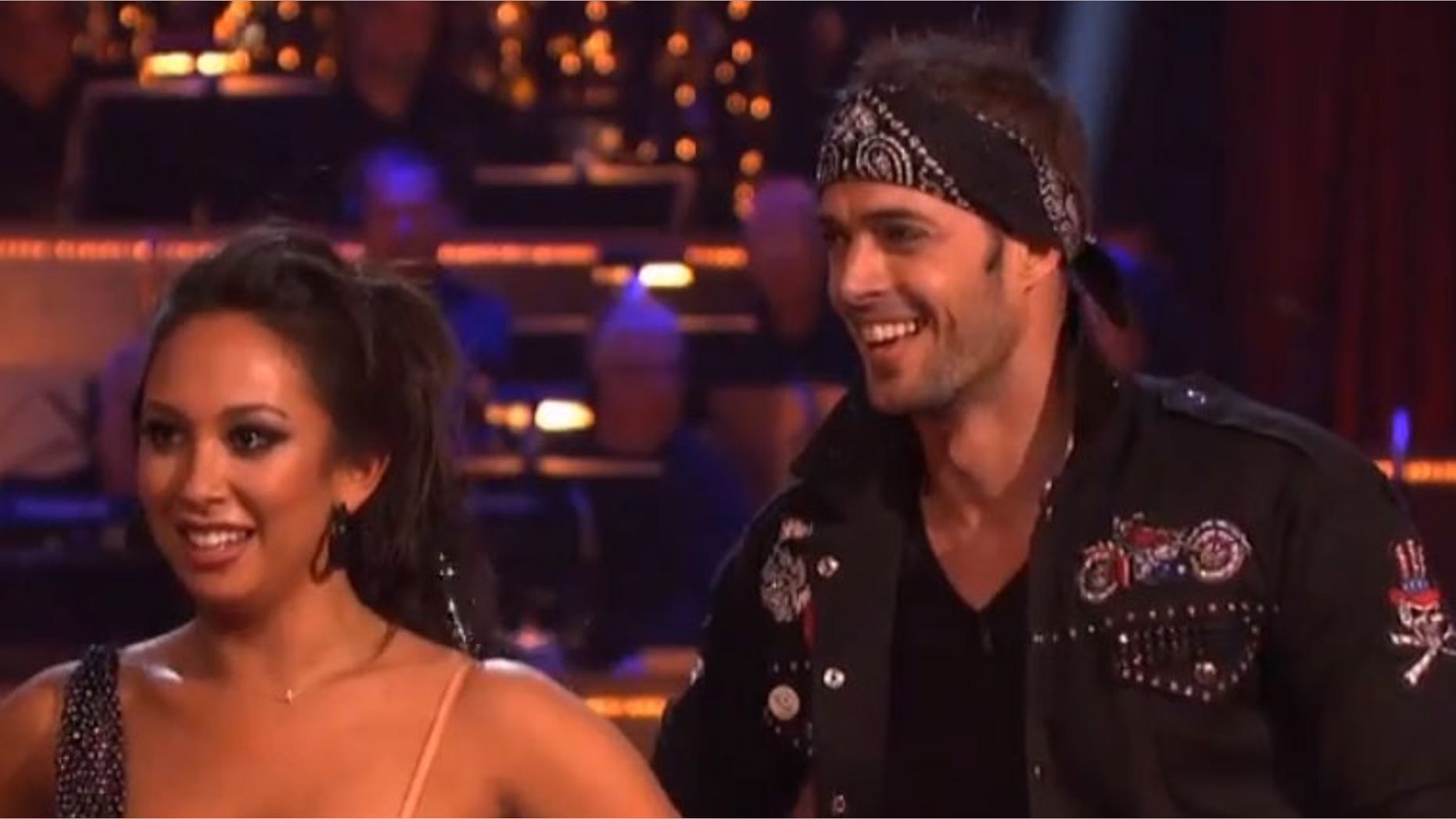 Latin hunk William Levy wigged out Monday night on Dancing With the Stars as Rock week invaded the ballroom.
In what he called "the most frustrating week," Levy had a crash course in 80's music and had one serious makeover with the help of the rock band KISS, who stopped by the dancing studio to get the contestants into rock star mode.
"We are dancing the Twisted Sister," Levy's dancing partner Cheryl Burke told the Cuban actor who looked puzzled.
"I have no idea about American music," Levy responded. "When I saw them [the KISS members] I was like who are these… ugly guys?"
Two of the KISS band members took to making Levy feel like a wild child as they made him wear a black, punked out wig with tight, leopard-print leggings and an electric guitar.
"With Cheryl teaching me this jive, I'm definitely going to rock and roll!" Levy said excitedly, looking like one of the KISS members himself.
On the dance floor, the telenovela actor opted to go wigless but donned tight black pants, a fitted black shirt with skulls on it, a black bandana and a sleeve full of (temporary) tattoos that fit the week's theme perfectly.
JR Martinez Wins 'Dancing With The Stars'
Despite Levy's attempt to nail the routine, the judges felt he came up short.
"You went long, you lost timing during the end part… it is what it is," said disappointed DWTS judge Len Goodman.
"The show is live," Goodman said. "You can't do it again but there is a pattern there. Last week you went long and this week you went long. You've got to nail the routines,William, otherwise anything can happen."
Clearly, Levy was not happy with the comments as he took the criticism with a somber expression.
Fellow judge Bruno Tonioli told Levy that despite the flaws of the routine, he feels Levy has "so much talent."
"Listen William, your performance always rocks the house," Tonioli said as the cameras panned to Levy's long-time on-again-off-again girlfriend, telenovela actress Elizabeth Gutierrez, who held their son Christopher Alexander.
"But, you did go off," Tonioli added. "The performance level is so high that you cannot dazzle everybody. But, you have so much talent. Tonight wasn't quite as good as it used to be."
The lone female judge Carrie Ann Inaba agreed with Tonioli.
"You uplift this room. They go crazy for you [and] for good reason," said Inaba as the crowd went wild with an applause and screams of "I Love You" being shouted at Levy.
DWTS: J.R. Martinez's Best Moves
"You have something very special," she continued. "You just have to watch the routine and stay focused."
For Levy, messing up was not pleasant but he told DWTS co-host Brook Burke he tried his best.
"[I] just keep going," said Levy. "I've never done this before."
The judges gave Levy a total score of 22 out of 30, one of the lowest of the evening, compared to NFL star Donald Driver's top score of 27 out of 30 points.
You can reach Alexandra Gratereaux at: Alexandra.Gratereaux@foxnewslatino.com or via Twitter:@GalexLatino
Follow us on twitter.com/foxnewslatino
Like us at facebook.com/foxnewslatino