'Dancing with the Stars': Andy Dick dances all the way home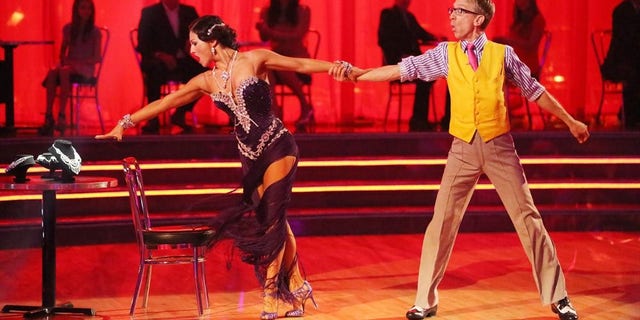 Kellie and Derek have immunity on "Dancing with the Stars," but six other couples are in danger of going home. Did Andy make up his huge points deficit? Or did someone else get the boot?

Nice to see Andy's still standing after getting crushed yesterday. Sigh. That 5 still burns, not to mention those dance-off points that the judges never in a million years would award him. Granted, I wouldn't have deemed him a winner either based on last night, but the whole dance-off gimmick itself was unnecessary.

After Aly and Mark's encore (yes, let's make the guy with bum back dance again), the jive dance-off foes hit the stage.

First safe couple:
Zendaya and Val

Jacoby and Karina are in jeopardy. Mama Jones is not pleased. Don't worry, Mrs. Jones. They can't be that obvious and have the bottom pack (Ingo, Sean and Andy) in jeopardy. Or maybe it's just Jacoby's punishment for accidentally throwing a football at Kym's head in rehearsals last week. "I'm not a quarterback," he tells Brooke.

Next safe couple:
Aly and Mark

Ingo and Kym are in jeopardy.

Got your tissues ready? Time for back-to-back tearjerkers. First is the spotlight performance by the Camden Sophisticated Sisters, a drill team created by Tawanda Jones as a safe haven for the children of Camden, N.J., one of the most dangerous cities in the country. They practice in the city's water tower, which doesn't have mirrors. After their performance, Brooke announces that the show will buy mirrors for the CSS. But the best part? Tom has one of the little girls send the show to commercial and she kills it. "I think we're in trouble, Tom," Brooke says. Well, you are, at least.

The second is, of course, Adrianne Haslet-Davis, a dance instructor who lost part of her left leg in the Boston Marathon bombings. She's vowed to dance again and is already in physical therapy. "I would love to dance on the show. I think it would be such an incredible thing ... on this journey of recovery," she says. The show will track her recovery progress and work with her to create a routine to eventually perform. "Which she will do in our ballroom," Tom assures. No doubt.

Next safe couple:
Sean and Peta... and apparently Sean thinks their rumba deserved 9s. Uh, dude, please. Those 8s were generous.

Andy and Sharna are in jeopardy. Jacoby and Karina are safe, which means Ingo and Kym, and Andy and Sharna are in the bottom two.

And the couple going home is... Andy and Sharna.

"It's just been the best. Carrie Ann, I'm going to kill you for that 5!" Andy jokes while choking up. "What did you do? It's all your fault. ... I really thank everybody here. The fans, the judges — it's been a wonderful, wonderful ride."

"I couldn't have had a more incredible first season as a pro," Sharna says. "He's given me such an incredible experience that I'll remember forever."

Andy's daughter shakes her head "no." I feel you. Andy was never going to win, but he's been the best part of the season, and two more weeks wouldn't have hurt. But bright side: He was funny, honest, serious, self-aware, exceeded everyone's expectations and shut down all the cannon-fodder talk. And Sharna is a total keeper as a pro.
Click here for more about "Dancing With the Stars" from TVGuide.com