Country singer Gretchen Wilson arrested after disturbance on flight, police say
Country singer Gretchen Wilson was arrested Tuesday night at a Connecticut airport after she caused a "minor disturbance" on a flight and became "belligerent" toward troopers, police said.
Cops caught up with Wilson just after 7 p.m. when the plane she was on touched down at Bradley International Airport, the Hartford Courant reported. Connecticut State Police troopers were called to the scene after receiving a report about a "minor disturbance" on the flight.
VIDEO: GRETCHEN WILSON'S ARREST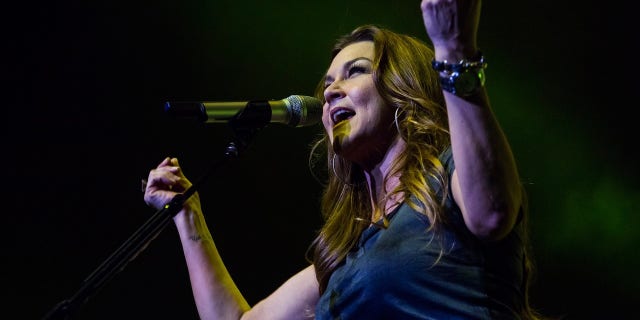 According to TMZ, the singer reportedly got into a fight with another passenger over the bathroom on a flight.
A source told the gossip site that Wilson, 45, got into a shoving match with another passenger after they exchanged words over using the airplane bathroom. The country singer reportedly waited and knocked on the door of the bathroom before the incident.
Wilson and the passenger continued to "exchange threatening hand gestures" for the rest of the 80-minute flight, sources told the site.
When the singer got off the plane, she encountered the cops waiting for her and demanded them to arrest her.
"While interviewing the accused on the jetway, she [Wilson] became belligerent toward the troopers and caused a disturbance," the police report stated.
Wilson was taken into custody and charged with breach of peace. Her bail was set to $1,000 and she's expected to appear in court Wednesday.
Police have not publicly provided details about the "disturbance" on the plane or why Wilson was belligerent.
Wilson, who lives in Lebanon, Tenn., rose to fame with her 2004 Grammy-winning country song, "Redneck Woman." Her other hits include "All Jacked Up" and "One of the Boys." She's had 13 singles on Billboard's country chart, five of which reached the Top Ten.
This isn't the first time the singer got entangled in an ordeal on a plane. Wilson received an in-flight citation in October 2007 when she cursed out the American Airlines flight attendants for asking her to put her dog back into a traveling case, according to TMZ.
The singer is scheduled to do a private performance Wednesday at Mohegan Sun casino, the report stated. Her upcoming tour is slated to begin in September, with a performance on Labor Day at the Obetz Zucchinifest in Ohio, according to her website.