Cooking with 'Friends': Heather Nauert's Crock Pot BBQ Ribs and Cole Slaw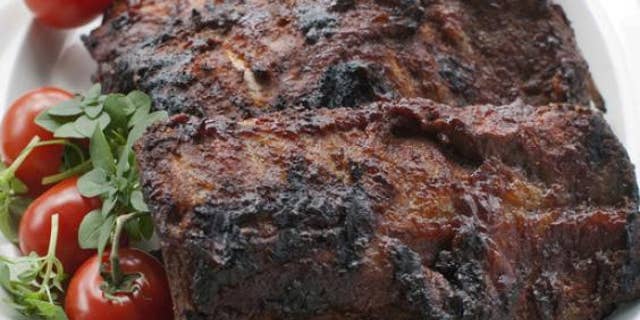 Heather Nauert shares a family favorite recipe, perfectly paired with cole slaw and tater tots!
CROCK POT BBQ RIBS
Ingredients:
2 racks pork ribs (St. Louis-style or baby back)
2 jars BBQ sauce
DRY RUB
Ingredients:
1/3 c. dark brown sugar
2 tbsp. kosher salt
1 tbsp. chili powder
1½ tsp. cayenne pepper
1 tbsp. paprika
1 tbsp. garlic powder
1 tbsp. onion powder
1 tsp. oregano
1 tbsp. cumin
Instructions:
Remove membrane from ribs.
Mix together ingredients for dry rub and spread on ribs to 'marinate' for 12 hours.
Put ribs in crock pot with the meaty side facing out. They should be placed in a ring formation. Add 2 jars of BBQ sauce.
Cook for 6 hours on low or 5 hours on high. I typically cook them for 5 hours on low. Ladle extra grease off the top.
Broil ribs in oven for 3 minutes to caramelize sauce on the ribs.
Pour extra BBQ sauce into saucepan. Simmer to thicken and serve on the side.
-----------------------
COLE SLAW
Ingredients:
Package of pre-cut coleslaw including red and green cabbage and sliced carrots
Jar of poppy seed dressing (I recommend Briannas brand)
Craisins
Instructions:
Mix together.