Convicted Favorite: Charlie Sheen and His Show Popular in Prisons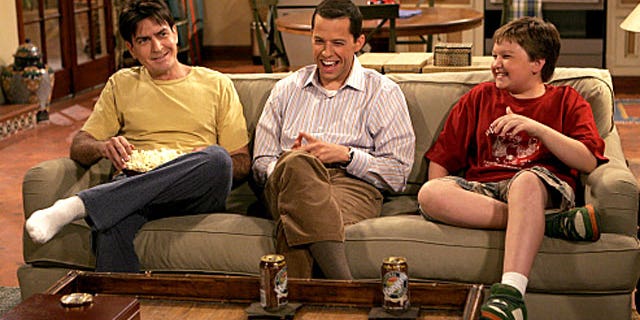 Charlie Sheen may want to overrule his lawyer, who pulled the plug on a proposed plea deal Monday due to issues with Sheen's proposed work release, and plead guilty to misdemeanor assault already.
Why?
Because if and when the actor makes it to the Pitkin County jail in Aspen, Colo., he may be surprised to find himself among friends. Sheen's popularity rating in the U.S. prison system is palpable, and his CBS comedy is a favorite among incarcerated men!
"Guys in prison are simply obsessed with Charlie Sheen. They think he is the coolest, funniest man alive. More importantly they consider him the greatest ladies man who ever lived," explained Dan Berry, a former prisoner in the Philadelphia prison system who has chronicled his time in jail on the blog, Prison Kites.
According to one corrections officer, while ESPN and BET are the two most watched networks, the sitcom that gets the most air time is "Two and a Half Men."
"The prisoners typically like to watch sports and anything that shows half naked women. 'Two and a Half Men' delivers the half naked women," the officer told FOX411.com. "They love Sheen's character because he gets with a lot of women and he rarely suffers any consequences for his actions God help you if you change the channel during 'Two and a Half Men'."
Television has long been used in prisons to provide a sense of normalcy and as a bargaining chip for good behavior. That good behavior allows them to indulge in Sheen's bad behavior.
"Of all the actors out there, Charlie Sheen himself is the epitome of 'one of us,'" said former inmate, convicted bank robber John R.E. Nelson, who wrote the memoir "Where Excuses Go To Die," about his time in prison. "Inmates of all stripes have engaged in much of the same behavior as he has, from the alcohol and drug abuse to the prostitutes and handcuff walks-of-shame, and second (even third) chances. If regular folks tend to root for his character, double that for inmates, whose affection for him is no less than intimate."
"He's a bad boy who never gets in trouble for his bad behavior, or at least not any trouble he can't get out of," explains psychiatrist Dr. Carole Lieberman, M.D. "And he's lovable, cool and a sympathetic character. The prisoner's would all like to be him."
Sheen's rep says he's not surprised.
"The show has been a top 10 show for years," Sheen spokesman Stan Rosenfield told FOX411.com. "That would mean that it is extremely popular among Americans, regardless of where they reside."
Sheen's deal to plead no contest to misdemeanor assault would have had him serving 30 days, a sentence that could be reduced to 17 days with good behavior. But the charge of domestic violence has not reduced Sheen's popularity with TV viewers.
Sheen will resume taping on "Two and a Half Men" following his prison stay. The narrative of his hit sitcom, involving two brothers and one of their sons living together, is another reason that prisoners relate to him. Aside form the womanizing and bad boy behavior, they can relate to the unorthodox living situation depicted in the show.
"Prisoners can relate to men living together and having to cope with each others personalities and quirks," Lieberman explains.
Beneath his bad boy exterior, Sheen's sense of family is also what draws inmates in.
"While Charlie is, in many ways, the pinnacle of the selfish, self-centered, narcissistic ass, he nevertheless takes care of his brother, loves his nephew, even loves his mom – just like every inmate in the audience wishes he could, would, or claims he does," Nelson says. "There's redemption in that and it's a fundamental value that brings all inmates together."