Charlie Sheen and Brooke Mueller Holding Off on Divorce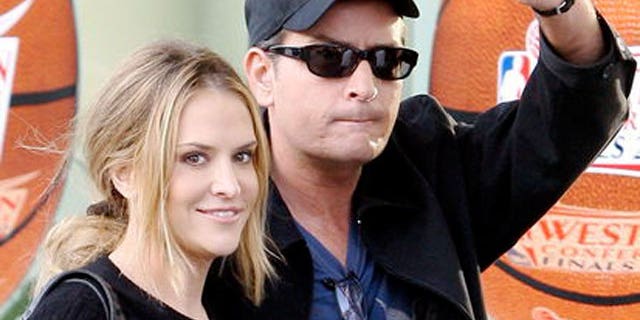 LOS ANGELES – Despite rampant reports that Charlie Sheen and wife Brooke Mueller are close to filing for divorce, legal reps for the high-profile duo admitted that while they are encountering "marital problems," they have yet to consider the prospect of ending their nuptials for good.
"Since the December 25 incident involving Charlie and Brooke Sheen, the couple have been going through their martial trials and tribulations, and have been the subject of enormous speculation in the media. Over-speculation, if there is such a word, would be more accurate," said the joint statement released by Sheen's attorney Mark Burg and Mueller's attorney Yale Galanter. "Please let us clarify this: They are not seeking a divorce nor has one been contemplated. There has been no financial agreements between the parties of any sort. Stories to the contrary are false. The couple asks that their privacy be respected at this time."
SLIDESHOW: Charlie Sheen's Many Relationships
Still, an insider tells Tarts that the marriage is a practically beyond repair, and expects divorce to come about later this year, once two important things have been cleared up.
"Charlie needs to protect his image and stay married until he has resolved his charges with Colorado authorities," said our source. "At least for their kids' sake, Brooke doesn't want to have to testify against him or have him severely reprimanded."
The downward spiral between the two was ignited in Colorado on Christmas Day last year when Sheen was arrested on domestic violence charges after allegedly threatening his wife. But according to numerous recent reports, Sheen is close to signing off on a plea deal with prosecutors in the hopes of putting the matter behind him. He also wants to secure a bigger and better deal with Warner Bros. to return to his hit show "Two-And-a-Half Men," sources say.
According to TMZ, Sheen (who currently makes $825G per episode) is now seeking $1.5 million. The WB, however, is only offering $1 million.
"Charlie needs his creditability for more bargaining power. A divorce would look terrible, and financially everything needs to be in place before any divorce filings," added our source. "As for whether he'll leave, I doubt it. He needs that show. Who else is going to hire him?"