CNN analyst Ana Navarro tweets, deletes doctored pic of LeBron James hating on Trump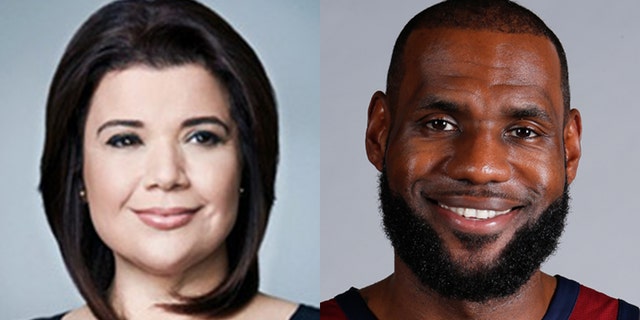 CNN analyst Ana Navarro tweeted and then deleted a fake image of NBA star LeBron James wearing a shirt with the middle finger on it that referred to President Trump as a "son of a b---h" on Wednesday.
"Freedom of expression Makes America Great. Whether u approve or not, we're free to wear this. Could get u jailed or killed in some place," Navarro wrote as the caption to her tweet that accompanied a fake photo of James wearing the anti-Trump shirt.
Navarro's attempt at humor is presumably a reference to Trump's recent comments about professional football players who do not stand for the national anthem, as he sparked a national conversation when using the same derogatory phrase when describing players who don't respect the flag.
The Daily Caller tracked down the actual photo, in which James is wearing a shirt featuring WWE's The Undertaker – proving that Navarro was fooled by a photoshopped image. Or, as Trump would probably say, a CNN analyst attempted to spread "fake news."
Navarro portrays herself as a Republican on the liberal network, but she's not exactly a member of the GOP who supports the president. She has called him "Draft-Dodger-In-Chief," "President Loco" and accused him of "dividing Americans" all within the past three days and has been among the most outspoken Trump critics on a network filled with Trump critics.
She deleted the tweet after it had been shared and liked over 6,000 times and followed up with an apology.
Meanwhile, the White House noticed her gaffe. Trump assistant and Director of Social Media Daniel Scavino took to Twitter to ask CNN's senior media correspondent Brian Stelter if he would point out the 'disgraceful fake photoshopped tweet directed" at the president. He also managed to find the real version of the photo as tweeted by the NBA's official Twitter account back in June 2016.
Stelter responded to Scavino, noting that Navarro deleted it and apologized before mocking the White House staffer. The "Reliable Sources" host asked, "You work at the W.H., paid by taxpayers -- should this really be one of your top priorities?"
CNN did not immediately respond when asked if Navarro would be disciplined.