Ciara takes heat for her College Championship dress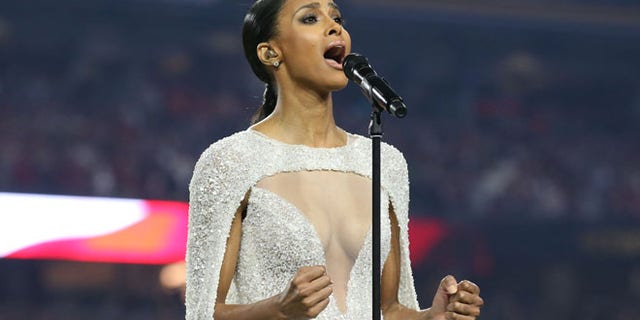 NEWYou can now listen to Fox News articles!
Pop star Ciara received universal praise for her rendition of the national anthem at the College Football Playoff Championship game on Monday night, but the same cannot be said for her dress.
Campus Insiders reporter Bonnie Bernstein summed it up during her live tweet of the telecast:
Many, however, did not share her sentiments, implying Bernstein was a hypocrite.
Bernstein soon found herself on the defensive.
Fox Sports 1 reporter Jason Whitlock came to Bernstein's defense, and was soon being slammed himself.
Ciara, who is dating NFL quarterback Russell Wilson, with whom she has been very public about their celibate relationship, obviously was proud of her wardrobe choice, posting this photo after her performance.
What do you think of her dress? Tells us on the FOX411 Facebook page.