'Chronicles of Narnia' Cruises to No. 1 Debut with Modest $24.5M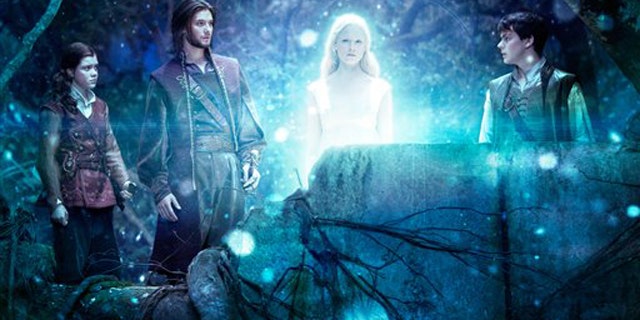 NEWYou can now listen to Fox News articles!
LOS ANGELES -- The latest chapter in "The Chronicles of Narnia" saga has sailed to the top of the weekend box office, though the franchise sank to a weak debut compared to the first two movies.
"The Voyage of the Dawn Treader," the third in the franchise based on C.S. Lewis' fantasy novels, took in $24.5 million domestically, according to studio estimates Sunday.
Johnny Depp and Angelina Jolie's romantic thriller "The Tourist" opened in second-place with $17 million.
"Dawn Treader" revenues showed a huge drop from 2005's "The Lion, the Witch and the Wardrobe," which took in $65.6 million over opening weekend, and 2008's "Prince Caspian," which did $55 million.
But with the movie topping $80 million in 85 countries overseas, for a worldwide total of $105.5 million, executives at distributor 20th Century Fox said they are making good headway toward recouping the movie's budget of just under $150 million.
"We had a huge task ahead of us to resurrect this franchise and get movie-goers back to that feeling of affection they had for the first movie. I think all the evidence says we've accomplished that," said Chris Aronson, head of distribution for Fox, which took over the "Narnia" series when Disney dropped it after the second movie finished at $141.6 million domestically, less than half the $291.7 million haul of the first. "I think they all had such a bad taste in their mouth from the last one. That's why we really had our work cut out for us."
"Dawn Treader" follows the adventures of some of the Pevensie siblings from the first two films as they take a magical sea voyage with their royal pal Caspian. Liam Neeson again provides the voice of talking lion Aslan.
Sony's "The Tourist" also had a quiet start. The film stars Jolie as an Englishwoman who picks up a mild-mannered American (Depp) on a train in Europe as a diversion while she's on the run from cops and gangsters.
"You have two of the biggest stars in the world, so expectations could be skewed a bit," said Rory Bruer, Sony's head of distribution. "But it certainly is a respectable opening."
The previous weekend's No. 1 movie, Disney's animated musical "Tangled," slipped to third-place with $14.6 million, raising its domestic total to $115.6 million.
Hollywood remains in a lull as it heads into the Christmas frenzy. Among the movies that will compete for holiday audiences are Jeff Bridges' science-fiction tale "Tron: Legacy," Robert De Niro and Ben Stiller's comic sequel "Little Fockers," Jack Black's comic adventure "Gulliver's Travels" and Reese Witherspoon's romance "How Do You Know."
Overall revenues totaled $94 million, down 3 percent from the same weekend last year, when "The Princess and the Frog" was No. 1, according to box-office tracker Hollywood.com.
"The marketplace is pretty much in a malaise, unless you're a specialty or indie film playing in a limited number of theaters," said Hollywood.com analyst Paul Dergarabedian. "Those are really the bright spots in an otherwise lackluster post-Thanksgiving period."
In limited release, Natalie Portman's ballet drama "Black Swan" expanded to more theaters and leaped into the top-10, coming in at No. 6 with $3.3 million in just 90 cinemas. That gave it a strong average of $37,024 a theater, compared to $6,892 in 3,555 cinemas for "Dawn Treader" and $6,168 in 2,756 locations for "The Tourist."
Distributor Fox Searchlight expands "Black Swan" into nationwide release Friday, three days after the Golden Globe nominations, where the film is considered a likely contender in acting and other categories. Portman, also a strong Academy Awards prospect, plays a ballerina coming unglued amid the stress of fending off a rival for the lead in "Swan Lake."
Mark Wahlberg and Christian Bale's boxing drama "The Fighter" was the latest awards contender to put up huge numbers in a limited-release opening. The Paramount film took in $320,000 in four theaters, averaging a whopping $80,000.
"The Fighter" stars Wahlberg as real-life boxer Micky Ward, who overcame harsh family conflicts to earn a title shot in his mid-30s with help from half-brother Dicky Eklund (Bale), an ex-fighter whose life unraveled amid crime and crack addiction. The film expands to wide release Friday.
Disney's Shakespeare adaptation "The Tempest," with Helen Mirren playing the traditionally male lead of the play, opened modestly with $45,000 in five theaters, for a $9,000 average.
Estimated ticket sales for Friday through Sunday at U.S. and Canadian theaters, according to Hollywood.com. Final figures will be released Monday.
1. "The Chronicles of Narnia: The Voyage of the Dawn Treader," $24.5 million.
2. "The Tourist," $17 million.
3. "Tangled," $14.6 million.
4. "Harry Potter and the Deathly Hallows: Part 1," $8.5 million.
5. "Unstoppable," $3.8 million.
6. "Black Swan," $3.3 million.
7. "Burlesque," $3.2 million.
8. "Love & Other Drugs," $3 million.
9. "Due Date," $2.55 million.
10. "Megamind," $2.5 million.