Chris Hansen responds to backlash over crowdfunding campaign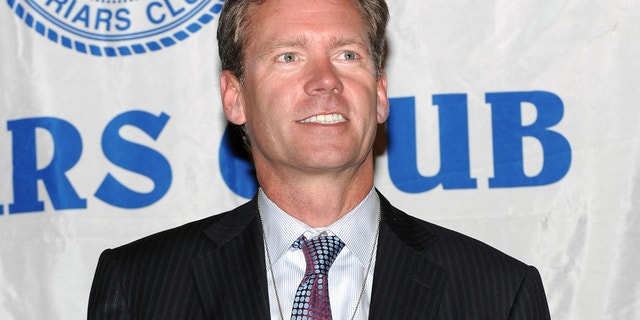 Some of Chris Hansen's biggest fans are turning on the ex-NBC host with claims they donated money to his crowdfunding campaign for a new program, but he never delivered the goods.
The TV personality, who left NBC in 2013, wanted to capitalize on the popularity of his former hit show "To Catch a Predator" and set out to create a similar crowdfunded show, titled "Hansen v. Predator."
Hansen created a Kickstarter page to pay for the project, which was announced in April 2015. More than 1,220 "Predator" fans gave the host nearly $90,000 to fund the series.
According to Hansen's Kickstarter page, donors were promised a wide-range of gifts for pledging money to the project, such as coffee mugs, signed photos, T-shirts and personalized voicemail greetings. The merchandise was supposed to be sent out by Dec. 2015, but as of this week, backers are still complaining they have yet to receive anything.
An update was posted on the Kickstarter page on April 11, and read: "Thank you for being so patient as we are now finally getting to bring your rewards to you… Dec 2015 was our initial estimate on when the rewards would be shipped. The investigation required our team to go dark but now we are ready to give you not only a great show but the awesome rewards that were promised to you."
However, backers say they still haven't gotten their promised gifts.
"Where is our stuff? Anyone else get their shirt or mug?!?!" one backer wrote on Friday. Another wrote on Tuesday, "Are we ever getting our rewards? This isn't a rhetorical question, I'm genuinely concerned that I got scammed out of my money."
On Thursday, an update from Hansen's team noted that backers had yet to receive their promised merchandise.
"All Backers will receive what has been promised to them...All of this has taken a lot longer than our estimated delivery date and we do apologize for that. Our team is working daily to organize each backer reward and to also make sure the negotiations for the show are handled correctly."
Hansen responded to the angry fans in a statement sent to FOX411. He said the rewards are in the works.
"Some of donor rewards like custom voicemail messages shipped long ago. I have received the books and photos I need to sign and send out. I will get on that over the weekend," he told us via email.
Hansen said the hold up with the T-shirts and mugs is because "we wanted to make sure logos and graphics are consistent with the broadcast entity where this will appear."
He insisted that can now be resolved because "we have struck a broadcast deal." He said the deal will be made public on Aug. 22.
"...The bottom line is we did it," he said. "We shot and produced the first investigation, and now it will air."
When reached for comment, Kickstarter told us, "Sounds like some of the rewards have been delayed, which happens when you're bringing something new to life both on and off Kickstarter."