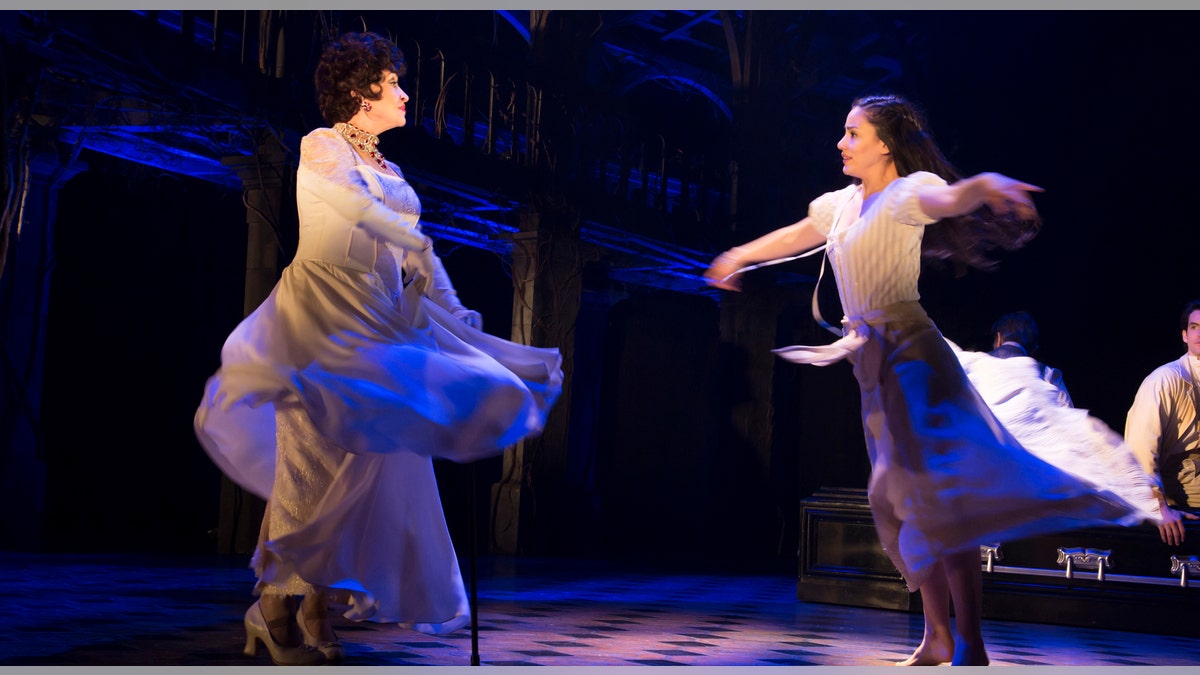 NEW YORK (AP) – If Chita Rivera ever wants a quick reminder of her past, she only needs to walk down a hall and knock on Michelle Veintimilla's Broadway dressing room.
There she'll find a smiling, effervescent 22-year-old just out of school who is a spitting image of the theater icon when she was just starting out.
Veintimilla plays a younger version of Rivera's character in "The Visit," the Tony Award-nominated musical with a story by Terrence McNally and songs by John Kander and Fred Ebb.
Rivera, 82, has been known to playfully slap the younger woman on the rear end and say: "I know that butt. I have that butt, too. That was my body."
Rivera, who originated roles in "West Side Story" and "Kiss of the Spider Woman," plays a billionaire who returns to her down-at-the-heels hometown to exact revenge on a lover who stomped on her heart.
Veintimilla and John Riddle, playing the younger version of her older ex-lover, watch the events unfold, gliding along the stage like ghosts, all youth and passion, a counterpoint to what has become their sour older selves.
In addition to her obvious skills as a singer, dancer and actress, Veintimilla was clearly hired for "The Visit" on her looks. More specifically, her eerie resemblance to Rivera.
"Chita showed me a picture of her in 'West Side Story,' and she's like, 'Look, it's you! It looks just like you!'" Veintimilla says. "It's true. We do really look similar."
Veintimilla, whose is of Ecuadorean descent, grew up on Long Island to a family of engineers. She took her first dance class at 3 and was dancing competitively at 8. "I'm the black sheep of the family," she says, laughing.
At 15, she broke her right foot jumping off a chair and was out of action for eight months. The girl who virtually lived at the dance studio now had to cool it.
"I was able to take a step back and I was able to see what it was to be the spectator and not just the performer. I was able to be on the other side and that's when I really got into acting."
Veintimilla remembers her father taking her to the library and opening an encyclopedia to the entry of a special woman. "Here's Chita Rivera," he told her. "She's Latina, she's a dancer and singer and an actor."
Veintimilla was still a senior at Carnegie Mellon University when she got the job last summer as Rivera's younger self for "The Visit" at the Williamstown Theatre Festival. It transferred to Broadway with her this spring, marking her first big job.
"I could not be happier for her. It's like it's happening to you again," says Rivera, who is up for her third Tony this year thanks to "The Visit."
One of the show's best moments is when both women are alone onstage performing the song "Love and Love Alone," mimicking each other's steps and movements.
"I would just watch her in rehearsal and watch how she held herself. I would just think, 'How would she have held herself when she was 17?'" Veintimilla says.
"I know that Chita does the same thing. She's been watching me in rehearsal, and I know that she's picked up some of my gestures."
The two — under the guidance of choreographer Graciela Daniele — have tried not to over-rehearse the dance, keeping it as fresh as possible.
Over the months, Rivera has become almost a godmother figure. She and Veintimilla's mother cooed over Veintimilla's opening night dress, and the older actress shares stories about her roles and offers advice to her younger self.
"She is pretty hard on me sometimes, too," Veintimilla recalls. "I remember the first few days in rehearsal, she was like, 'Where's your scarf? Did you have your tea? Did you stretch?' She's always making sure I'm taking care of myself."