Celebrity Jussie Smollett supporters grapple with hoax reports
As reports that "Empire" actor Jussie Smollett may have choreographed his alleged assault pile up, some celebrities are having a hard time aligning the headlines with their initial support, and two have even pointed fingers at police.
Rapper Cardi B posted a profanity-filled Instagram live video expressing disappointment in Smollett, while leaving open the possibility that the actor is being set up by "racist" police officers.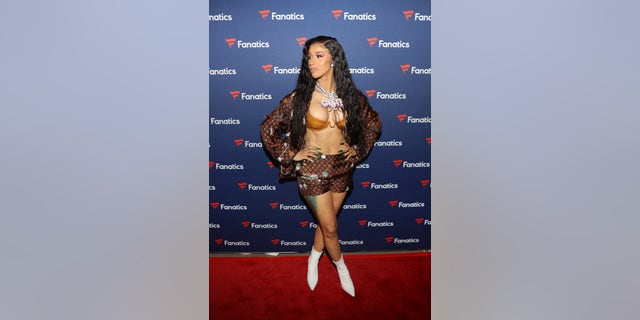 JUSSIE SMOLLETT HAS 'NO PLANS' TO MEET WITH CHICAGO POLICE MONDAY, DESPITE REQUEST
"I'm not gonna say, yet, until he says out his mouth that it was fake and the s--- was staged. I don't want to completely blame him because… somebody that I was talking to, they said police in Chicago are racist and so they might probably be trying to frame him and make him look like he's a liar," Cardi B said in the video. "But if he's not, then bro, you f----d up."
Much like Cardi B, actress Ava DuVernay is skeptical of law enforcement in Chicago.
"Despite the inconsistencies, I can't blindly believe Chicago PD," DuVernay tweeted. "The department that covered up shooting Laquan McDonald over a dozen times? That operated an off-site torture facility? That one? I'll wait. Whatever the outcome, this won't stop me from believing others. It can't."
DuVernay sent a follow-up tweet after a fan pointed out inconsistencies in Smollett's version of events.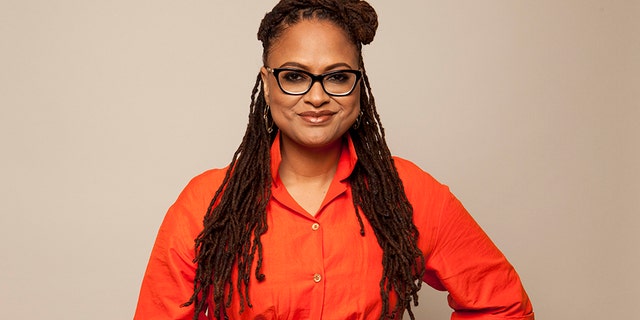 "He might have lied. He might [...] not have. I don't know. But what I do know? I never believe police on general principle just 'cause they say so. My experience, our history, makes it impossible for me to do so," she wrote.
JUSSIE SMOLLETT'S LAWYERS DENY HE PLANNED ATTACK AFTER CHICAGO POLICE CLAIM HE'S NO LONGER CONSIDERED A VICTIM IN CASE
On Saturday, a Chicago police spokesperson said Smollett is no longer considered a victim in the case that allegedly involved an attack by two masked men who shouted racial and anti-gay slurs at the actor and "This is MAGA country!"
Police earlier said that the "trajectory of the investigation" shifted and that they wanted to conduct another interview with Smollett about the alleged hate crime last month. Police released two Nigerian brothers who were held for questioning about the reported attack. They were released late Friday without charges.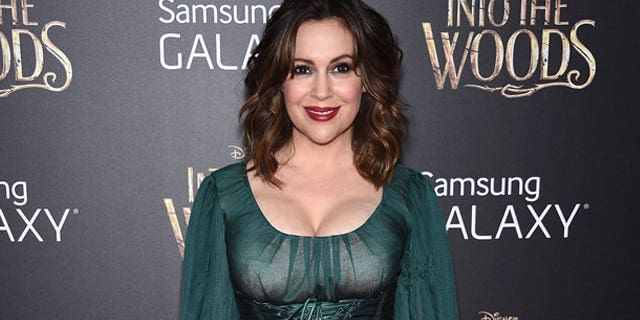 Smollett, who is black and openly gay, said he was attacked on Jan. 29 as he was walking home from a Subway restaurant. Police initially said they were investigating the attack as a possible hate crime and earlier considered Smollett a victim.
Over the weekend, reports citing police sources who felt Smollett orchestrated the attack gained traction, with CNN leading the charge. Actress Alyssa Milano tweeted that staging an attack is "wrong in so many ways" before expressing difficulty believing Smollett would do such a thing.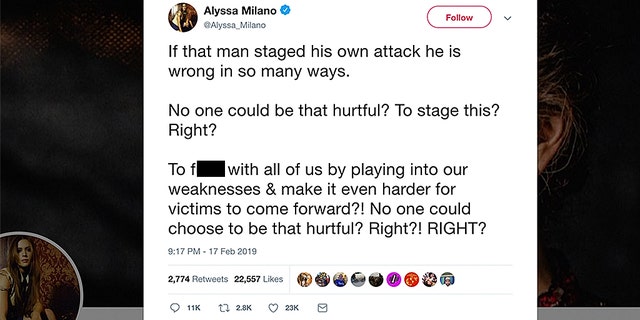 "No one could be that hurtful? To stage this? Right?" she wrote. "To f--k with all of us by playing into our weaknesses & make it even harder for victims to come forward?! No one could choose to be that hurtful? Right?! RIGHT?"
Smollett's attorneys, Todd S. Pugh and Victor P. Henderson, vehemently denied that the attack was a hoax, previously telling press, "As a victim of a hate crime who has cooperated with the police investigation, Jussie Smollett is angered and devastated by recent reports that the perpetrators are individuals he is familiar with. He has now been further victimized by claims attributed to these alleged perpetrators that Jussie played a role in his own attack. Nothing is further from the truth and anyone claiming otherwise is lying."
Fox News' Mariah Haas contributed to this report.