CBS News, PBS fire Charlie Rose following sexual misconduct allegations
CBS News has fired "CBS This Morning" co-anchor Charlie Rose after the veteran journalist was accused of sexual harassment by several women. PBS also parted ways with Rose shortly after the CBS decision.
"A short time ago we terminated Charlie Rose's employment with CBS News, effective immediately," CBS News executives emailed staffers Tuesday in a memo obtained by Fox News.
On Monday, a bombshell report by the Washington Post accused Rose, 75, of making unwanted sexual advances toward at least eight women.
When asked by TMZ Monday night if he would like to comment on the women who have accused him of "wrongdoings," Rose simply replied, "It's not wrongdoings."
CBS News President David Rhodes continued his email to staffers:
"A short time ago we terminated Charlie Rose's employment with CBS News, effective immediately. This followed the revelation yesterday of extremely disturbing and intolerable behavior said to have revolved around his PBS program.
"Despite Charlie's important journalistic contribution to our news division, there is absolutely nothing more important, in this or any organization, than ensuring a safe, professional workplace -- a supportive environment where people feel they can do their best work. We need to be such a place.
"I've often heard that things used to be different. And no one may be able to correct the past. But what may once have been accepted should not ever have been acceptable.
"CBS News has reported on extraordinary revelations at other media companies this year and last. Our credibility in that reporting requires credibility managing basic standards of behavior. That is why we have taken these actions.
"Let's please remember our obligations to each other as colleagues. We will have human resources support today and every day, and we are organizing more personal and direct training, which you will hear about from senior management shortly.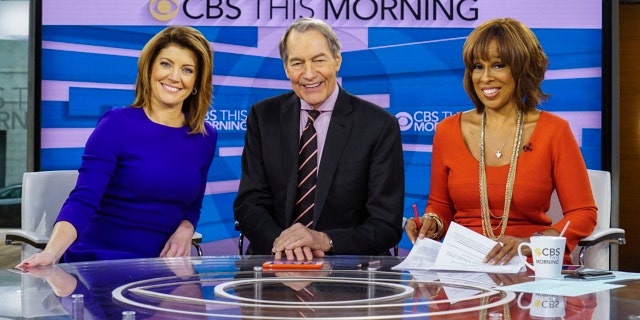 "I'm deeply disappointed and angry that people were victimized --and that even people not connected with these events could see their hard work undermined. If all of us commit to the best behavior and the best work – that is what we can be known for."
"CBS This Morning" has been growing rapidly since it launched in 2012, but still struggles to match the viewership of rivals "Today" and "Good Morning America," while Rose's show on PBS has aired regularly since 1991.
The morning show — normally hosted by Rose, Norah O'Donnell and Gayle King — was down to the two women on Tuesday and the accusations against their colleague was their lead story.
"This has to end," said O'Donnell.
King said she considered Rose a friend and held him in high regard, but was struggling because "what do you say when someone that you deeply care about has done something so horrible?
"Charlie does not get a pass here."
"How do you wrap your brain around that?" she said. "I'm really grappling with that. That said, Charlie does not get a pass here. He doesn't get a pass from anyone in this room."
She said that while the story described a Rose she did not know, "I'm also clearly on the side of the women who have been very hurt and damaged by this."
Rose's accusers were between 21 and 37 years old at the time of the alleged encounters and the Post noted that there are "striking commonalities" in the accounts of the women. His alleged behavior typically included offering jobs to females and then using his power to put them in uncomfortable positions of a sexual nature. He allegedly would offer women a six-figure position that disappeared once they rejected his advances.
"For all of the women, reporters interviewed friends, colleagues or family members who said the women had confided in them about aspects of the incidents. Three of the eight spoke on the record. Five of the women spoke on the condition of anonymity out of fear of Rose's stature in the industry, his power over their careers or what they described as his volatile temper," the Post said in a statement about the bombshell.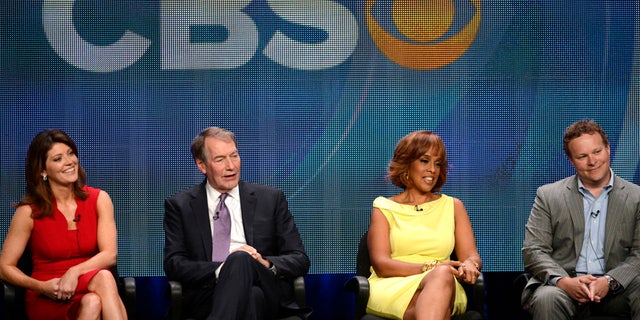 None of the women who made accusations against Rose to The Post worked for PBS or CBS.
He has expressed remorse for some of the allegations.
"In my 45 years in journalism, I have prided myself on being an advocate for the careers of the women with whom I have worked," Rose said in a statement provided to The Post. "Nevertheless, in the past few days, claims have been made about my behavior toward some former female colleagues… It is essential that these women know I hear them and that I deeply apologize for my inappropriate behavior. I am greatly embarrassed."
Rose continued: "I have behaved insensitively at times, and I accept responsibility for that, though I do not believe that all of these allegations are accurate. I always felt that I was pursuing shared feelings, even though I now realize I was mistaken."
Powerful and influential men have been facing allegations of sexual misconduct on a regular basis since disgraced Hollywood mogul Harvey Weinstein was outed as a sexual predator with a pair of bombshell reports in The New York Times and New Yorker earlier this year. High-profile media members such as Glenn Thrush, Bill O'Reilly and Mark Halperin have joined celebrities such as Kevin Spacey, Louis C.K. and a handful of politicians recently accused of sexual misconduct.
Ironically, Rose once appeared as himself on an episode of the Netflix series "House of Cards," which has been rocked by the accusations against Spacey.
According to the report by Post contributor Irin Carmon and investigative reporter Amy Brittain, one accuser, Reah Bravo, was an intern and then associate producer for Rose's PBS show beginning in 2007. In various interviews, she detailed unwanted sexual advances from Rose.
"I have behaved insensitively at times, and I accept responsibility for that, though I do not believe that all of these allegations are accurate."
"It has taken 10 years and a fierce moment of cultural reckoning for me to understand these moments for what they were," she told The Post. "He was a sexual predator, and I was his victim."
Another accuser, Kyle Godfrey-Ryan, was Rose's former assistant and detailed "at least a dozen instances where Rose walked nude in front of her while she worked in one of his New York City homes." She claims the CBS and PBS star also "repeatedly called" her "at night or early in the morning to describe his fantasies of her swimming naked."
Megan Creydt worked as a coordinator on the show from 2005 to 2006 and was a colleague of Godfrey-Ryan. She told the Post that Rose "put his hand on my mid-thigh" and understands that other claims are more serious but she was willing to speak to the paper to "support other women who were coming forward."
The 75-year-old was considered a broadcasting legend and has interviewed everyone from Steve Jobs to Barack Obama. Time magazine named Rose one of its 100 most influential people in 2014 and former New York City Mayor Michael Bloomberg once described him as "one of the most important and influential people in journalism."