CBS News calls sexism allegations 'wholly without merit' after ex-producer files suit
CBS News is fighting back after a female former producer filed a federal lawsuit alleging rampant sex discrimination at the network, claiming she was encouraged by her boss to sleep with men at the company, according to the New York Post.
Citing court records, the Post reported that Erin Gee says her former boss at CBS, Robert Klug, told her "she should 'have sex' with [the] video editor who had been difficult to work with to 'break the ice.'"
"I was in a state of shock… I couldn't believe that was his advice," Gee, 44, told the Post. "I was looking for help, and he looked at me like, 'You don't matter, and this is what you should do to make this guy like you.'"
Gee worked for 17 years in a variety of roles at "CBS Evening News," but was demoted to the weekend newscast after filing a 2015 complaint about alleged sexism at the network, according to the Post. She eventually left the network.
"Ms. Gee is a former employee who voluntarily resigned from CBS to pursue another opportunity. Her allegations are wholly without merit, including those directed toward Mr. Klug, and CBS will vigorously defend itself. Contrary to those allegations, Ms. Gee was treated in a non-discriminatory and non-retaliatory manner, and the Equal Employment Opportunity Commission has previously dismissed her claims. CBS is firmly committed to equal employment opportunities and maintaining a positive work environment for all of its employees," a CBS News spokesperson told Fox News.
CBS News took swift action when newsman Charlie Rose was accused of sexual harassment, but isn't taking Gee's allegations as gospel.
"My situation demonstrates why women are afraid to speak up,'' Gee told the Post. "When they do, they're often punished for it."
Gee's attorney told the Post that she reported the incident and nothing was done about it. The suit, filed in Manhattan, also alleges that Klug, who was eventually promoted to executive director for CBS News, asked Gee's male colleagues if they had sex with her.
"All I wanted was the same opportunities that were being given to the men. In my nearly 20 years at CBS, I never saw a female director direct the evening news."
"All I wanted was the same opportunities that were being given to the men. In my nearly 20 years at CBS, I never saw a female director direct the evening news," Gee told the Post.
The federal Equal Employment Opportunity Commission dismissed Gee's discrimination claim last March, saying it was "unable to conclude that the information obtained establishes a violation of the statutes," but the group did allow a right to sue, which is required under federal law, according to the Post.
Gee is seeking unspecified damages in her suit.
It's been a rough week for CBS News, as the network fired "CBS This Morning" co-anchor Rose after the veteran journalist was accused of sexual harassment by several women. A bombshell report by the Washington Post accused Rose, 75, of making unwanted sexual advances toward at least eight women.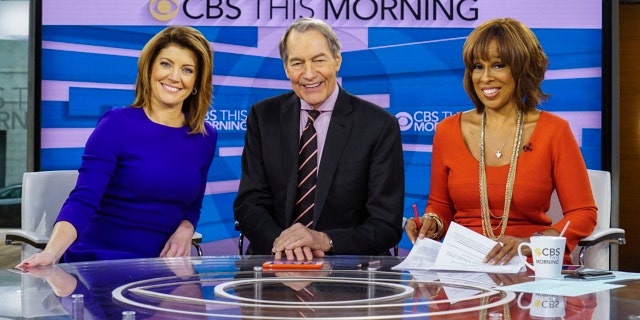 "CBS This Morning" co-anchors Norah O'Donnell and Gayle King have held their now-former colleague accountable.
King said she considered Rose a friend and held him in high regard, but was struggling because "what do you say when someone that you deeply care about has done something so horrible?
"How do you wrap your brain around that?" King said the day after the Rose story broke. "I'm really grappling with that. That said, Charlie does not get a pass here. He doesn't get a pass from anyone in this room."
O'Donnell chimed in, "This has to end."
She said that while the story described a Rose she did not know, "I'm also clearly on the side of the women who have been very hurt and damaged by this."
Rose's initial accusers, who were not CBS employees, were between 21 and 37 years old at the time of the alleged encounters and the Post noted that there are "striking commonalities" in the accounts of the women. Rose's alleged behavior typically included offering jobs to females and then using his power to put them in uncomfortable positions of a sexual nature. He allegedly would offer women a six-figure position that disappeared once they rejected his advances.
Powerful and influential men have been facing allegations of sexual misconduct on a regular basis since disgraced Hollywood mogul Harvey Weinstein was outed as a sexual predator with a pair of bombshell reports in The New York Times and the New Yorker earlier this year.