Carson Daly pokes fun at Blake Shelton, Gwen Stefani at People's Choice: 'they're going to get a room'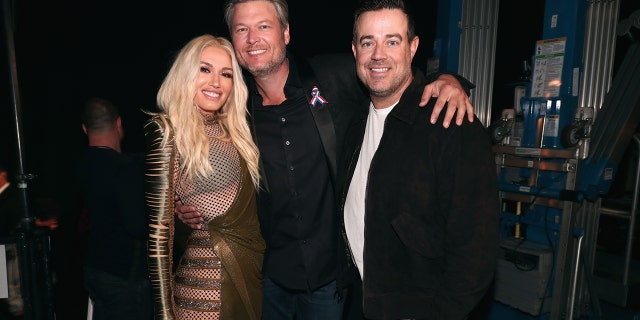 Carson Daly lovingly embarrassed his friends and co-stars Gwen Stefani and Blake Shelton while on stage accepting an award for their work on "The Voice."
Daly, 45, and Shelton, 42, took the stage at the E! People's Choice Awards 2018 on Sunday where they accepted a win for the long-running singing competition series. During their speech, the former "TRL" host couldn't help but acknowledge former coach, and girlfriend of Shelton, Stefani sitting in the audience.
"I want to thank Gwen Stefani before Blake does," Daly joked.
"All time favorite coach right there, Gwen Stefani," Shelton said. "I love her, I love her."
Daly then took the opportunity to invite Gwen on stage by leading the crowd in a chant of her name. Shelton helped his girlfriend of nearly four years on stage where Daly continued to awkwardly shine a light on their relationship.
"Who would've thought that this country artist could land one of my oldest friends in the music business?" Daly said before trying to hand Gwen the trophy.
"No, what am I doing?" she replied refusing to take the award. "Oh my God, I'm so excited to be with Blake Shelton!"
Shelton then tried to play them out of the awkward encounter with a simple "thank you" to the crowd, prompting one more embarrassing line from Daly.
"They're going to get a room," he quipped.
Shelton and Stefani began dating shortly after their respective divorces in 2015. The duo met while acting as coaches on "The Voice." Shelton continues to work with the show while Stefani has stepped away. Daly remains the NBC series' host.
You can watch the fun but uncomfortable acceptance speech below: