Cardi B performs at pre-Grammy event, celebrates nominations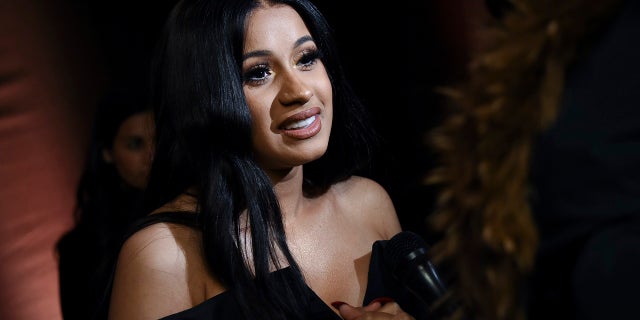 Chart-topping rapper Cardi B performed late Thursday at a pre-Grammy party in New York City, where she also celebrated her first pair of Grammy nominations.
When the DJ said she "got nominated for a Grammy," Cardi was quick to correct him.
"Two of them," she said.
The 25-year-old performed at the Grill in Midtown Manhattan. The breakthrough rapper has five songs in the Top 20 on the Billboard Hot 100 chart.
She was energetic as she kicked off the performance with her verse on Bruno Mars' upbeat song remix, "Finesse."
In a black ensemble, she rocked the stage with her hits that have dominated on radio and on streaming services, from "Bartier Cardi" to "No Limit," a collaboration with G-Eazy and A$AP Rocky.
Her major label debut single, "Bodak Yellow," topped the Hot 100 last year and made her the first solo female rapper to achieve the feat since Lauryn Hill in 1998.
The song is nominated for two Grammys — best rap song and best rap performance — pitting her against Jay-Z and Kendrick Lamar.
"It's the Grammys — hope a (girl) take one. Let me take it to the Bronx," she said to the crowd.
Cardi B thanked her label, Atlantic Records, at the event hosted by parent company Warner Music Group.
Attendees included singers Kelly Clarkson, Rita Ora, Ciara and Bebe Rexha; country music group Little Big Town; Oscar- and Tony-winning songwriters Benj Pasek and Justin Paul; music industry players and press.
Cardi B, who has released several mixtapes, is set to release her debut album this year.
She will perform with Bruno Mars at the Grammys, which will be held Sunday night at Madison Square Garden.
The Associated Press contributed to this report.