Billy Crystal: Staying relevant at 67 isn't easy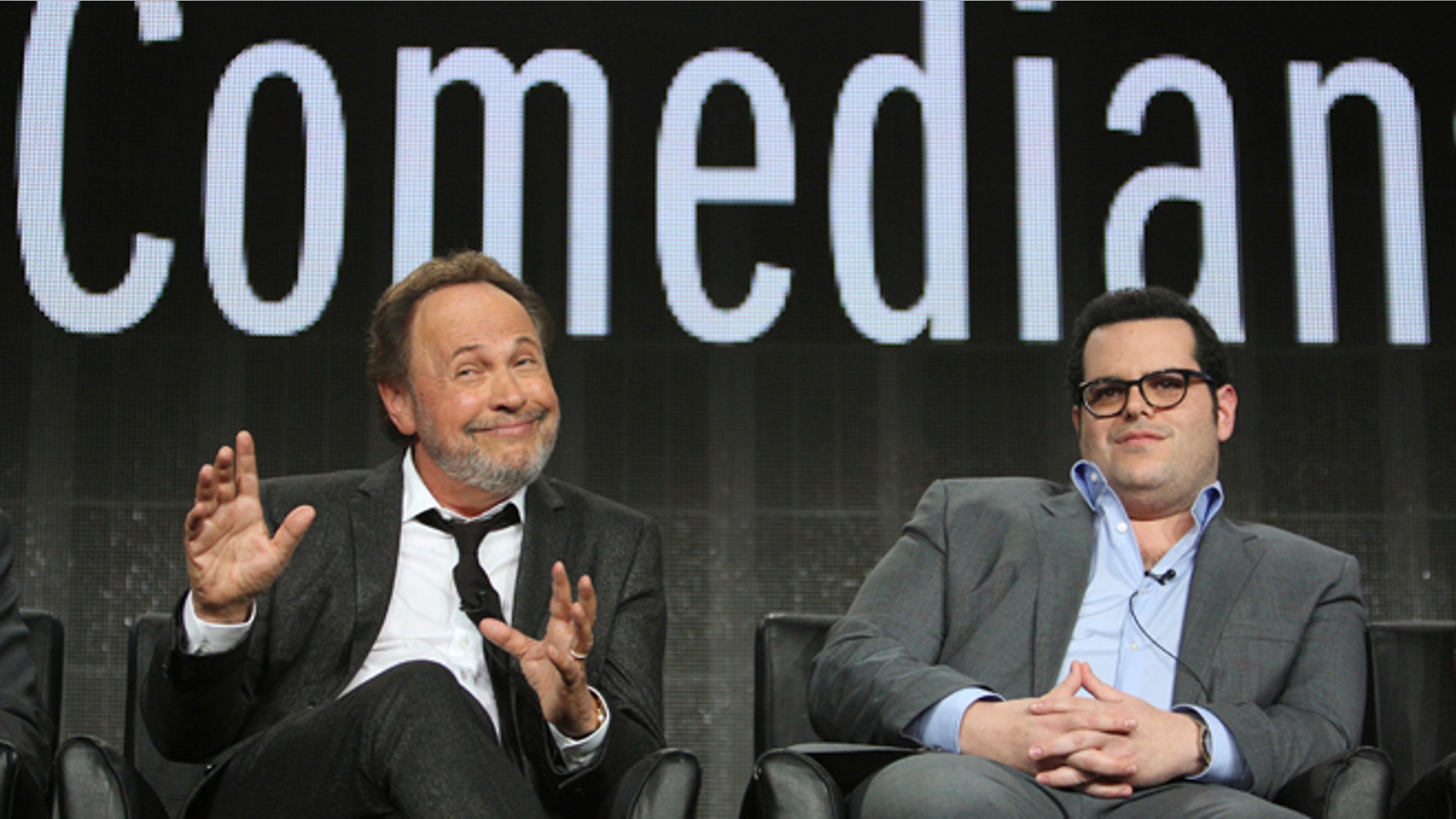 PASADENA, Calif. – There's a whole brouhaha going on in the media over remarks that Billy Crystal made at the Television Critics Association press tour session for his new FX series "The Comedians" last week. He said," I've seen some stuff recently on TV in different kinds of shows where the language or the explicit sex is really … sometimes I get it, and sometimes I just feel like, 'Ah, that's too much for me.'"
It was interpreted by many to mean that Crystal, who played one of the first openly gay characters on TV -- Jodie Dallas on Soap, which ran on ABC from 1977-81 -- was saying that he is opposed to gay sex on TV. But that is not the case. In fact, when Crystal was later asked to clarify his remarks, which he did, he explained that for him "too much" could be hetero sex, gay sex, or even language.
"I've seen language on shows where I didn't want to get into a fight with anybody but I wanted to call up a certain head of a network and say, 'Why are you allowing this? I feel very proprietary about this. That's too far. It's a little distasteful and I'm not a prude by any means."
What is and isn't funny is a subject that is addressed on Crystal's new 13-episode FX series "The Comedians," which begins with the head of the network telling Crystal that the only way he can get a new show on the air is if he will work with up-and-comer Josh Gad. Of course, there is a disconnect between the veteran comedian's brand of humor and that of the rising star.
"There's an assumption that once you hit 50 or 55, you're done. Why listen to this guy?," Crystal told FOX411.com. "But I've never been like that. Part of the healing that goes on in the 13 episodes is the appreciation that we both feel for each other's work, a mutual respect. But I think there's a perception that if you tell a joke in a certain way, or about certain subject matter, audiences will tune out just because you walk on stage."
Crystal, whose comedy icons include Phil Silvers, Sid Caesar, Imogene Coca, Richard Pryor and Robert Klein, among others, says to stay current, he makes it a point to "listen and watch, and then if you have something honest and good to say, it's relevant."
In fact, one of the hardest things he says he had to do for "The Comedians" was to perform in front of a young audience and bomb.
"I'm approaching my 67th  birthday," he says. "Am I going to go out and talk about dating? You talk about what you talk about. I see Louis C.K. now is talking about getting older. You know what? I did that stuff 20 years ago. Sometimes someone will say, 'Well, he's a little old-fashioned.'"
That may be, but if you look at his resume for the last few years, it would put a lie to that assumption. Crystal has had some of the busiest years of his career recently with his one-man Broadway show, 700 Sundays, which was filmed for HBO;  his best selling book, "Still Foolin' 'Em: Where I've Been, Where I'm Going, and Where the Hell Are My Keys"; the Disney/Pixar film "Monsters University;" and now "The Comedians."
"This is the future," he says. "I'm living in it now… I'm still finding new ways to be funny, and it's thrilling."
"The Comedians" premieres on Thursday, April 9 at 10 p.m. ET/PT on FX.
WATCH: Four4Four: Women held do different standards in Hollywood?