Beyonce slammed for golden breast costume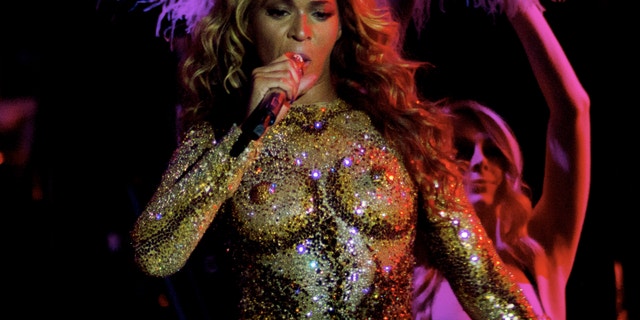 It's been a weird few months for Beyonce. It started with her lip-syncing national anthem controversy during the Presidential Inauguration, continued with uproar over the leotard she donned after ripping off her skirt during the family-friendly Super Bowl halftime show, and reached a head with she and her husband Jay-Z's widely condemned trip to Cuba.
But she's not done! Now the world-famous pop princess is shaking off criticism regarding her latest costume selection, easily her most risqué yet.
Beyonce, 32, commenced her "Mrs. Carter World Tour" in Belgrade, Serbia on Monday night with the typical spandex and fishnets we have come to expect, but prompted more than a few gasps her with gold-sequined leotard, complete with anatomically-correct sparkly golden nipples.
PICS: Click for more images of the 'golden nipples' outfit.
Hollywood writer Ariane Sommer told FOX411's Pop Tarts column that Beyonce's golden boob-outlined body suit was not a wise choice, and comes across as an "ill-executed effort to keep up with younger and more raucous stars" such as Rihanna and Lady Gaga who "command media attention through pushing the envelope with their outfits on and off the stage."
"It is surprising and a little bit dismaying to see that Beyonce seems to think she needs to position herself visually in the same way as she has always been a shining example of how a woman can command attention and be sensual in a very classy way," Sommer said. "Beyonce has always been known for her clean sex appeal, which is largely the reason why she is so successful with commercial endorsements for big, family oriented brands such as Pepsi and L'Oreal. It would not surprise me if the telephone hot lines of these brands are running hot right now with enraged mothers."
Sarah Maria, author of "Love Your Body, Love Your Life," agrees.
"Although some of Beyonce's costumes were stylish, the faux breasts and nipples is much closer to vulgar. It certainly makes a statement, but is it a statement worth making?" she said. "Vulgar needs to stop being a thrill. Well-styled would be more effective if she wants to present an image that is worth paying attention to."
Beyonce's wardrobe selection attracted quite a a lot of wrath on the Internet as well. Some called the "stripper look" "disrespectful," others referred to it as an "ugly, unflattering mess," and another noted that "the dragestants on Ru Paul's show have better creations."
Yet there were plenty of admirers too, with many weighing in that the suit was "dazzling" and "hot."
The designers behind Beyonce's latest tour - tipped by many to be her most successful to-date - include Julien Macdonald, Dsquared2 and Pucci, along with rumors of a Givenchy involvement. But so far the mastermind behind this specifically salacious look has not been identified.
Others argue that Beyonce's wardrobe selection has artistic elements, and that the "Grown Woman" singer is merely making the most of her internationally-famed figure.
"There is an artistic element to the ensemble- it is reminiscent of a Monet. From a distance the nipple detail is less obvious, but once you are up close the intent becomes more completely clear. Some of course celebrate the female form as artistic, others as something to cover up," added sociologist Dr. Hilary Levey Friedman. "The recent Cuba trip likely hurt her reputation more than this, as fans expect their pop stars to behave a bit sexually and sensationally at times. Although you have to wonder what one of Beyonce's biggest fans, Michelle Obama, would tell her daughters about this outfit."
A rep for Beyonce did not respond to a request for comment.