Belinda Carlisle Drank Daily While Pregnant, Is Amazed She 'Still Has a Nose'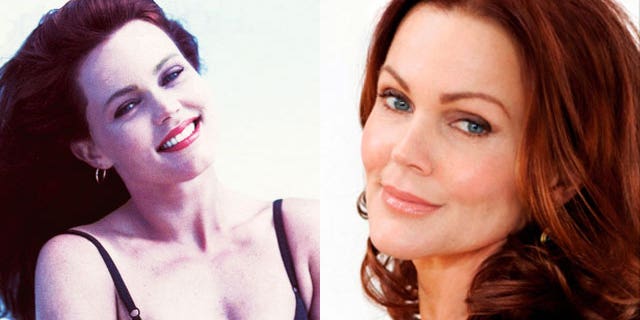 LOS ANGELES – Don't believe that super-stardom has a sinister side? Perhaps a few revelations from 80's pop/punk princess, Belinda Carlisle, may change your mind.
In her new memoir "Lips Unsealed," the "Go-Go's" songstress reveals the trials and tribulations of her 30-year addiction to cocaine – littered with extreme eating disorders, lesbian lip locks and deranged behaviors. But perhaps Carlisle's most sickening confession was that in 1992, she boozed daily – all while pregnant with her one and only son, James Duke Mason.
"I didn't notice and I didn't pay attention," Carlisle told Pop Tarts, when we questioned the reaction others had to an expectant mother indulging in adult beverages. "I only noticed what I cared to notice. I didn't really pay attention to what other people said."
After three decades of extreme drug and alcohol abuse, the now 51-year-old credits her faith not only for keeping her alive, but also sparing her outward appearance.
"It's amazing that I still have a nose. There's no (permanent) damage and I have been really lucky in that way," she said. "Someone was looking out for me, I was protected. There's no reason that after 30 years I never had a car accident, I never killed anybody. The fact that I never ended up in jail is unbelievable to me. I would just say that it's the grace of God, with a little bit of luck."
However, Carlisle's descent into the sinister world of drugs didn't initially emanate from a desire to rebel or experiment – it was an innocent longing to lose a few (or perhaps quite a few) pounds.
"I was envious of the way Madonna looked, but I had eating disorders way before that. One of the reasons that I got into cocaine was because it was an appetite suppressant," she continued. "I never had a problem with the way I looked or with my weight. I never had a problem getting boyfriends. I never had a problem with it, but the media had a problem with it because I was voluptuous, I was normal. I wasn't jealous of Madonna, I was envious of her and how she looked."
And in spite of all the hardships, Morgan Mason, Carlisle's husband of 25 years and former special assistant to the president stayed true to his vows and remained by her side.
"He's a very evolved person and under all that, he always saw the person that he loved. He saw this divine person through all the crap," she said. "We also had a son together and [didn't want to put him through divorce.]"
Carlisle's memoir is particularly jaw-dropping for those of us who remember her as a fresh-faced teen cruising through the L.A streets in a convertible, while singing "It doesn't matter what they say… the jealous games that people play… our lips are sealed" – but it turns out that she actually omitted the most disturbing details of her decline.
"I left out the shocking bits, there's a lot I didn't put in there. I didn't write this book to shock," Carlisle explained. "I feel very comfortable with what I've talked about, and the stuff I wasn't comfortable with I just didn't put in... Since I lived it, I was a little taken aback when people said that it was shocking."
Yet unlike most stars who opt for the traditional road of rehab as a means to recover, Carlisle turned to Buddhism and days filled with 4-5 hours of meditation and yoga, which she credits for the reason she has now been clean and sober for five-and-a-half years. She now splits her time between France and India, and is focused on launching a website featuring textiles, fabrics and home works.
And needless to say, the "Heaven Is a Place on Earth" crooner is more than elated to stay as far away from the hills of Hollywood.
"It's sick. I haven't lived in L.A. for 18 years and I can say it was one of the best things I have ever done for my self-esteem and for myself," she added. "When I go back and stay for a couple weeks, it starts messing with my head. The city puts unrealistic standards and issues on people that are hard to live up to. I watch the young talent shrink – I know that feeling because I've been there."