Barbara Bush says rainfall at secret wedding had a special meaning: 'That's my grandmother'
Barbara Bush didn't have blue skies for her wedding, but the now Mrs. Coyne didn't let the weather cast a shadow over her big day. In fact, the former first daughter said the rainfall that unleashed on her wedding earlier this month had a significant meaning.
"The second that it was announced that we were husband and wife, it started to rain," Bush explained alongside her twin sister Jenna Bush Hager in a "Today" interview Wednesday. "I thought, 'That's my grandmother. She's with us, too."
President George W. Bush's daughter married Craig Coyne on Oct. 7 under gray skies at the family compound in Kennebunkport, Maine. The ceremony included just 20 family members, including grandfather and former President George H.W. Bush, 94. His wife Barbara died earlier this year at the age of 92.
Jenna Bush said she also felt her grandmother's presence that day.
"She might have been mad that we moved all the furniture out of the living room," Bush's sister Jenna joked.
The new wife explained that her wedding was "everything" she wanted it to be.
"It was wonderful. It was everything we wanted," said Bush, 36. "It was small and in a place that we have grown up and have so many incredible memories in Maine. We just wanted to make sure we could do it while my grandfather was still healthy. So we did it out on the rocks."
"I was full of pride," Jenna added. "There's a picture of us hugging where I'm actually weeping onto her white dress. I've wanted the best for her since the day we were born. She's the most important person in my life, minus my husband and my kids. … She exudes love and joy, and she deserves that love and joy back."
Bush paid tribute to her late grandmother during her wedding ceremony by accessorizing her gown with the late first lady's bracelet. In the "Today" interview, the newlywed also said that she was proud to share her grandmother's name.
"I have had a complicated relationship with my name largely because when I was little I didn't understand why I would get looks with the name Barbara Bush," she explained. "But when my grandmother passed away, I have a very different feeling about it. She walked into death. She was very fearless about how she lived her life up until she passed away."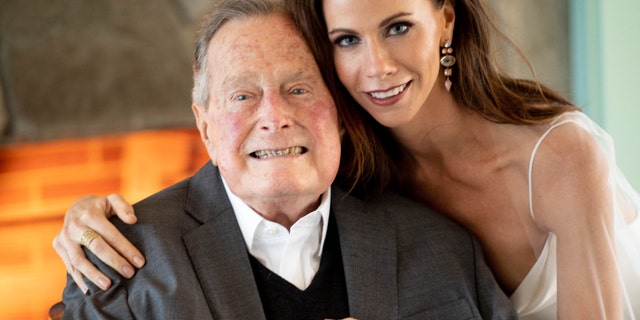 She continued, "I remember the night that we found out that she had died...I was thinking about how she showed us all how you should live, fearlessly and leading with love. I thought when I was going to bed that night, 'Well, I get her name now. That is a reminder to me every day to live my life in this way.' So it's no longer complicated. I'm proud and thrilled to have my name."