'Backyard Oil' a real-life 'Beverly Hillbillies' as DIY drillers turn into millionaires overnight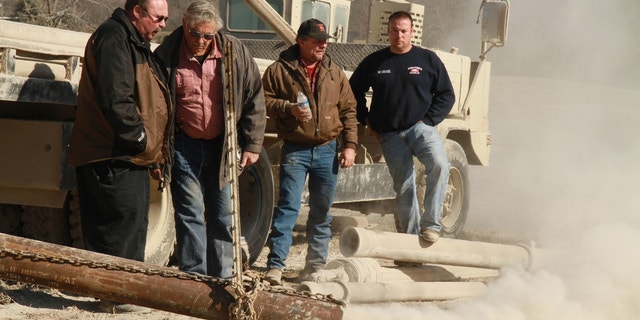 LOS ANGELES – $300,000.
That's how much a guy named 'Coomer' makes each month from an oil well he drilled.
In his own back yard.
So forget about digging for gold or trawling for Alaksan King Crabs, Discovery's newest show chronicles the "high stakes, comical roller coaster ride through the world of wildcat oil drilling."
"'Backyard Oil' is our first foray into the comedy space, and it's comedy at its finest. It's a great sweet spot for us because they are drilling for oil but they happen to be hilarious as well," the show's executive producer, French Horwitz, told FOX411's Pop Tarts column. "It hit the sweet spot for us within the 'redneck' world as well. We've got the fat guy that has a big beard, we love those types of characters, especially guys who are great on-camera, like to have a great time, but also work super hard and have real stakes for what they do."
That's right, we're talking the real-life 'Beverly Hillbillies.'
"Obviously we were relying on these guys to strike oil. It would be a tough show to make if they didn't. We were on pins and needles shooting the first couple of weeks. We wanted to make sure we got the magic in the bottle, and we definitely did," Horwitz continued. "It really is that in some parts of the country, you can poke holes in your front and backyards and get oil and become a millionaire. It's a bit of trial and error, and a little bit of an investment, but you can hit and make some big money."
"Backyard Oil" follows the fortunes of several oil-seeking gentlemen in rural Kentucky: the aforementioned Coomer, a bearded hillbilly name Rascal, a bickering father-son team known as the Page Boys, and Jimmy Reliford and his sidekick Mad Dog.
According to Reliford, the DIY drilling boom is growing so rapidly, the United States may one day not need to rely on foreign reserves.
"The United States is the Saudi Arabia of natural gas, and we need to be drilling here in America, and we need to be drilling here and be independent, and at some point we really could," he said. "There's enough (oil) in North Dakota, Wyoming and Montana, and there is a big rig in Canada. There's enough there that maybe one day we won't need foreign oil."
Reliford says it doesn't take large amounts of money or knowledge to win at the oil drilling game, either.
"Oh anyone can get in here; it doesn't cost an arm and a leg. Here is the cheapest place in the world to drill wells," he added. "People come here from all over just to drill."
"Backyard Oil" debuts on Discovery Tuesday, April 23 at 10PM ET/PT.
Danielle Jones-Wesley contributed to this report.