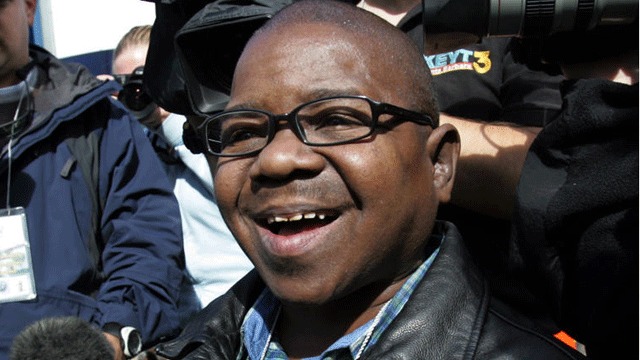 The dispute over Gary Coleman's estate wages on, but the court-appointed attorney overseeing the late actor's belonging says one thing is certain: he did not want his death memorialized with any fanfare.
So after Coleman's remains were finally cremated Thursday at a suburban Salt Lake City mortuary -- after nearly three weeks of limbo caused by legal wrangling -- there was no funeral, no wake, no ceremony of any kind.
"The proceeding was conducted in accordance with Mr. Coleman's desires as expressed in his will," attorney Robert Jeffs said in a brief statement.
Jeffs revealed earlier this week that Coleman's 2005 will specified he wanted no funeral or other service. That document trumped a 1999 will, in which Coleman said he wanted to be remembered in a wake conducted by people who had no financial ties to him and who could "look each other in the eyes and say they really cared personally for Gary Coleman." The 1999 will also said Coleman wanted no media at his wake.
SLIDESHOW: Gary Coleman - 1968-2010
The former child TV star's cremation had been on hold because of a dispute over his assets between his ex-wife, Shannon Price, and ex-girlfriend, Anna Gray. Both contend they are the lawful administrators of his estate.
On Monday, a Utah judge appointed Jeffs to oversee Coleman's property and remains until a determination is made on an estate executor. Jeffs has said that decision could take months.
In the meantime, Coleman's ashes and belongings will be securely stored, Jeffs said.
SLIDESHOW: Then/Now - The Cast of 'Diff'Rent Strokes'
Coleman's 1999 will named Dion Mial, one of Coleman's friends and former managers, who on Monday withdrew his petition to be named as special administrator of Coleman's estate. Mial's attorney said the 2005 will, which names Gray as administrator, takes precedence because it is more recent.
A 2007 handwritten note by Coleman names Price as the sole heir of his earnings, home, toy trains and other property.
"I made this change of free will and was not coerced in any way," says the note dated Sept. 4, 2007, less than a month after Coleman and Price married. "This I have done because of my personal selfishness and my weakness and I love her with all my heart."
Price and Coleman met in 2005 on the set of the comedy "Church Ball." They divorced in 2008.
Coleman was still conscious when he was taken to a hospital in Provo on May 26 but slipped into unconsciousness the next day and was placed on life support. It was Price who ordered that Coleman be taken off life support. In 2006, Coleman signed documents giving Price legal authority to make medical decisions for him if he couldn't.
Coleman starred for eight seasons on the sitcom "Diff'rent Strokes," starting in 1978. The tiny 10-year-old's "Whachu talkin' 'bout?" became a catch phrase in the show about two African-American brothers adopted by a wealthy white man. Coleman played Arnold Jackson, the younger of the two brothers.