Arrogant much? Miley Cyrus says she's 'taking over the world'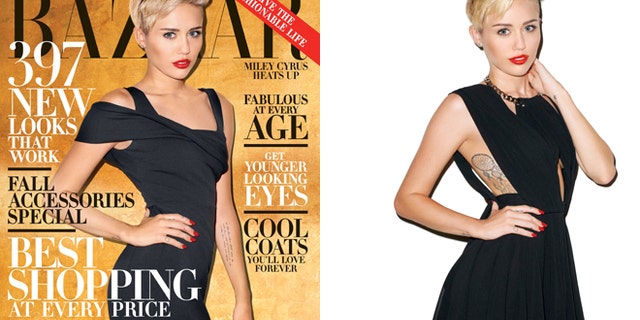 Miley Cyrus says it has been about a year since she "started trying to take over the world."
The 20-year-old singer opened up about her transformation from Disney girl to wild child in the latest issue of Harper's Bazaar.
Her image makeover began when she cut her long dirty blonde hair and dyed it platinum blonde.
"It changed everyone else's life more than it changed mine," she told the magazine of her new signature hairdo.
And she said that after Disney's "Hannah Montana" ended she just wanted her freedom, hence the wild transformation.
"I took off, and I just wanted to party. I worked so hard, and I wanted to buy a house and just chill," she said. "I was an adult when I was supposed to be a kid. So now I'm an adult and I'm acting like a kid."
As for her jaw-dropping style, Cyrus is confident when it comes to her ever-revealing look.
"I feel like every girl is trying to have a beauty shot and prove that they're 'fashion.' But I can be in white leggings and a white sports bra and I'm on a whole other level of sh*t that those girls don't even get yet because they don't know how to do it."
During the interview, the pop icon refused to answer questions about Liam Hemsworth, her on-again-off-again fiancé.
"I definitely don't have time to deal with a wedding right now," she said in passing. "But I will at some point."
But recently, die-hard Miley fans are wondering if that wedding will ever take place. Cyrus stopped following the "Hunger Games" star on Twitter over the weekend, leaving many wondering if the duo are finally done for good.