Aretha Franklin funeral's bishop mistakes Ariana Grande's name for 'new something at Taco Bell'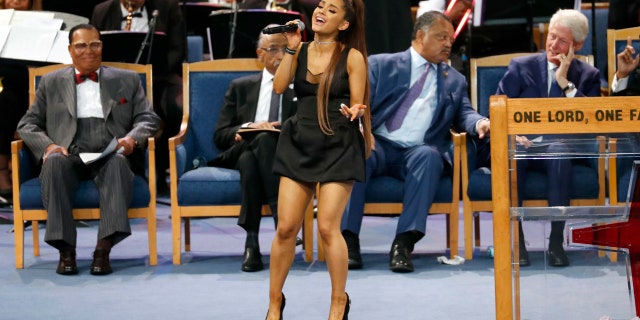 The set list for Aretha Franklin's Detroit funeral kicked off with singers such as Faith Hill and Ariana Grande celebrating the life of "The Queen of Soul." But things got a little awkward when the ceremony's bishop admitted that he didn't exactly know who Grande was.
Bishop Charles H. Ellis, who presided over the Queen's grand funeral service, graciously thanked Grande for her moving delivery of "Natural Woman," which she also sang live on "The Tonight Show with Jimmy Fallon" the day of Franklin's death on Aug. 16.
But while thanking Grande for her performance, Ellis admitted that he wasn't too familiar with the young artist prior and said he felt old because when he saw "Ariana Grande on the program, I thought it was a new something at Taco Bell."
The bishop then said that after seeing her perform he now owed her "a little bit of respect."
Grande wasn't the only A-lister to attend Franklin's ceremony.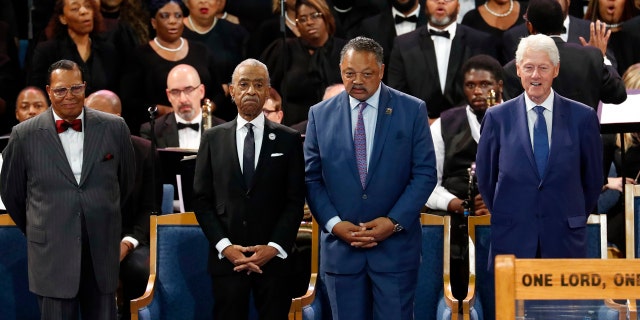 Bill Clinton, Hillary Clinton, Tyler Perry, Whoopi Goldberg, Stevie Wonder, the Rev. Al Sharpton, Faith Hill, T.D. Jakes, Jennifer Holliday, Jesse Jackson, Omarosa Manigault Newman, Rep. Maxine Waters, Detroit Mayor Mike Duggan were all spotted in the Detroit church.
Many in the pews ignored repeated calls of no phones permitted as people partook in taking selfies with attendees such as former President Bill Clinton and Hillary Rodham Clinton as they filed in.
Grande, who was spotted inside the chapel with her fiance Pete Davidson, was also snapped taking selfies with Hillary Clinton and embracing the former presidential candidate.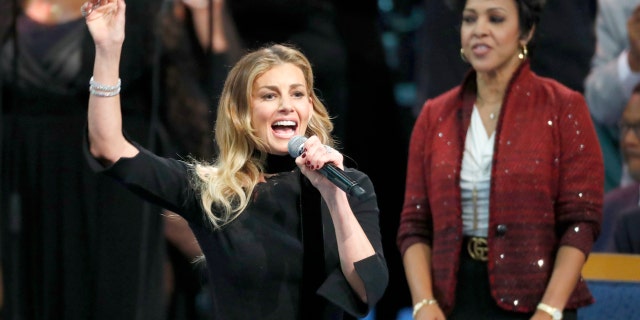 In addition to Grande's performance, Tim McGraw's wife, singer Faith Hill, kicked off the service's star-studded set list with a vibrant performance of "What a Friend We Have in Jesus" that brought the audience to their feet.
Motown legend Smokey Robinson followed later with a speech that turned into song. The singer serenaded the Queen at the podium and blew a kiss to her casket before leaving the stand.