How Antonella Barba went from 'American Idol' standout to troubled drug trafficker
Antonella Barba's bizarre life story is certainly one for the books – or should we say, one for the movies. Only this one doesn't look like it will have a happy ending.
The 32-year-old singer rose to fame in 2007 when she wowed judges Paula Abdul, Simon Cowell and Randy Jackson during her nationally-televised "American Idol" audition at age 19, stealing headlines in the series' sixth season and eventually becoming a top-16 contestant before she was eliminated right before the top-12 were chosen.
FORMER 'AMERICAN IDOL' CONTESTANT ANTONELLA BARBA TRIED DELIVERING FENTANYL, HEROIN, COCAINE, AUTHORITIES SAY
However, since becoming a household name in the world of "Idol" and beyond, Barba has found herself with a litany of troubles with the law.
Barba drew intense backlash in 2007 when topless photos of her were made public as well as a series of seductive photos of her posing in a fountain near the World War II memorial in Washington, D.C. sporting nothing but a wet T-shirt and black underwear. After the images surfaced online, Barba said in a TV Guide interview that her parents were "very upset," but encouraged her to focus on competing for the coveted title of "American Idol."
While speaking with Access Hollywood on the heels of her elimination, Barba revealed that "Idol" producers knew of the images she had taken and were aware that they could be made public.
"My personal life was not made for everybody," she told the outlet. "I had told them about pictures that I had taken – that could come out, and there was no getting in trouble with 'Idol' themselves, because they knew about it the whole time. They were working to protect me against it. All I know is that personal information has been stolen from my personal computer and I have no way of tracing that."
FRIEND SAYS RACY PHOTOS AREN'T 'IDOL' CONTESTANT ANTONELLA BARBA
At the time of her elimination from the singing competition, it was reported that "Girls Gone Wild" founder Joe Francis had offered the brunette bombshell $250,000 to host a video.
"Antonella Barba is an unbelievably sexy girl who obviously knows how to have a good time," Francis said in a story reported by the now-defunct Gawker. "Why are people being ridiculed and punished for being sexual? It's ridiculous."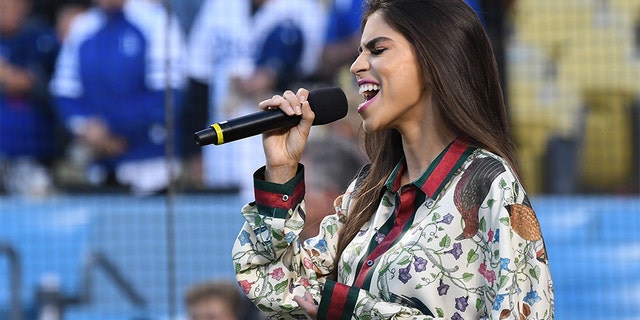 Looking to distance herself from the coed persona she had built prior to her "Idol" exit, Barba returned to the Catholic University of America where she was an architecture student. It wasn't until 2011 when Barba's luck with the law turned bad.
The New Jersey native was 24-years-old when she was hit with two misdemeanor charges for shoplifting after she was caught smuggling a pair of gloves from an Urban Outfitters clothing retailer in New York City, worth $18.81. According to the Post, the sultry brunette was sentenced to one day of community service.
FORMER 'AMERICAN IDOL' CONTESTANT ANTONELLA BARBA BUSTED ON DRUG CHARGE: REPORT
Still, the "Idol" alum continued in her pursuit of music stardom and ultimately became a singer in the Los Angeles-based rock band LA-eX – which included Crazy Town members Kraig Tyler and Epic Mazur. The group released the singles "We Give No Fuks," "Lipstick," "Make You Pop" and "So High." Barba also made an appearance on the hit reality stunt show "Fear Factor" in 2012.
On the surface, Barba looked to have stayed on a straight path in the time since her initial arrest, recording music, performing and earning writing credits on various songs. Barba even appeared in a "Jimmy Kimmel Live!" video that brought a number of past "Idol" stars together for a musical segment titled, "Where Are They Now?"
In February 2018, the violist and pianist told her fans on social media that she was in the process of producing music for disgraced singer R. Kelly, who is currently under investigation in Georgia and Illinois and facing backlash after a Lifetime docu-series titled "Surviving R. Kelly" shed light on Kelly's alleged sexual abuse against a number of underage women.
The quick exposure for Barba on "Kimmel" failed to jumpstart her career as it wasn't long until her once-promising life in Hollywood would begin to turn for the worse.
In October 2018, Barba was arrested in Norfolk, Va. for allegedly attempting to distribute heroin, TMZ reported at the time. The singer is facing a felony charge of distribution of 100 grams or more, the gossip site said.
Eric Korslund, a Norfolk-based criminal defense attorney told the Asbury Park Press of New Jersey that Barba denied ever knowing there were drugs in the rented vehicle she was pulled over in. Korslund told the local news outlet that Barba was awaiting a flight to Miami where she had a scheduled recording session.
CLICK HERE TO GET THE FOX NEWS APP
Now, in newly unsealed court documents – Barba "unlawfully, knowingly and intentionally" possessed the drug fentanyl with the intention of distributing the highly-abused substance. The documents place Barba as a member of a drug ring which also tried to push quantities of heroin and cocaine.
Barba was initially charged in Norfolk General District Court, but she now faces a federal indictment on charges of conspiracy to distribute cocaine, heroin and fentanyl, the Virginian-Pilot of Norfolk reported.
On Oct. 11, when Barba was arrested, she was allegedly directed by a co-conspirator to transport about 830 grams, or close to two pounds, of fentanyl, to someone.
Barba also has a felony marijuana case pending in Kansas, according to the Virginian-Pilot.
Fox News' Nicole Darrah contributed to this report.