Angry Lin-Manuel Miranda calls out audience members for taking photos mid-show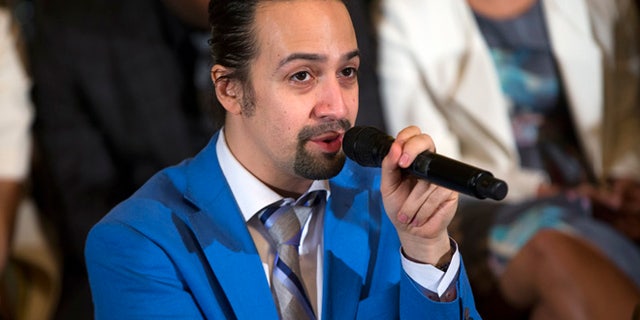 NEWYou can now listen to Fox News articles!
Poor theater etiquette rubs Lin-Manuel Miranda the wrong way — and he is not afraid to call out offenders.
The writer and star of the Broadway hit "Hamilton" took to Twitter after his Tuesday night show in New York to call out audience members who had pulled out cellphones throughout the performance, whether to take a photo or text.
"Our illegal photographers tonight: white guy black cap, 3 rows back, 3 seats in. Older woman 9 rows back, 7 seats in. We. Can. See. You," he wrote. "They're that specific because I report them to SM offstage. Then an usher comes to make them erase their pics."
Miranda usually takes to Twitter to praise audience members for their participation or excitement during a show — but felt he needed to point out these two "illegal photographers" from this week.
"You worked too hard to get those tix. I worked too hard to finish this show. So when I see your phone instead of your face..." he wrote, adding, "...it's gutting. It sucks. I block you out. I'm sorry. Too many people are working too hard. You forfeit."
This is also not the first time that Miranda has called out audience members on Twitter.
The 36-year-old Nuyorican did the same thing a year ago – while "Hamilton" was at the Public Theatre – when Madonna was reportedly texting during the show.
The New York Daily News reported that Miranda took the stage after the show to urge audience members to donate to Broadway Cares/Equity Fights AIDS and used the opportunity to take a swipe at the "Material Girl."
He mentioned that someone in the audience – no name mentioned, but he did say that it was someone who had done a lot of texting during the performance – could afford to contribute a lot.
The Tony winner for "In the Heights" then reportedly denied the pop singer backstage access after the show.
"Tonight was the first time I asked stage management NOT to allow a celebrity (who was texting all through Act 2) backstage #noselfieforyou," he wrote in a since deleted tweet.