Amy Duggar and husband Dillon King reveal why they're in 'Marriage Bootcamp'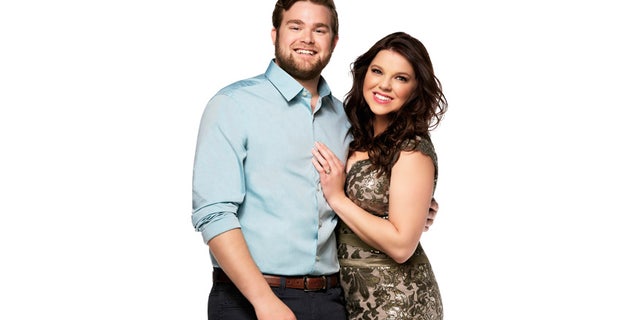 After only being married for seven months and engaged for less than two, Amy Dugger and Dillon King decided they needed counseling.
But unlike other couples, the cousin of the famed "19 Kids and Counting" Duggar family and her husband were revealing their early troubles in front of cameras for the world to see. However, Amy does credit her time on WE tv's "Marriage Boot Camp: Reality Stars" for helping her come to terms with an abusive incident involving a family member she has decided not to name ahead of the show's airing.
"I'm grateful I had the opportunity," Amy told Fox News. "I wished I could have done it behind closed doors… It's not that I regret saying his name… Well, I regret talking about it on camera, but it's something that just literally blew out of my mouth and the doctors could tell that I was bothered by something."
"The question was, 'Who hurt you when you were a little girl? Who was someone that first brought you pain? And this person — I tried to hide it, I did. But the doctors were like, 'No, there's something there. There's something bothering you,'" she said.
"And before I had the chance to really think about it and clear my mind, [the name] came out in therapy. And I forgave this person. This person is having a hard time forgiving me for mentioning it on camera. But in the moment, I literally forgot cameras were even there."
Amy revealed that a male relative had allegedly picked her up by the throat and lifted her toward the ceiling. When a teaser was released in late 2016, the Arkansas native cleared rumors on Twitter that it involved her husband.
Some have speculated the male involved could be Josh Duggar, Amy's cousin who made headlines for admitting he sexually abused four of his female siblings when he was younger.
The name of the individual is expected to be released in that upcoming episode.
For Dillon, who didn't know about the incident until that moment, he wanted audiences to know that their time on a reality TV series wasn't a quest for fame.
"I think the general public and anyone who asks us tends to forget that we're not there to be involved in some show," he explained. "We're there going to therapy and there are cameras catching the therapy. And so a lot of people tend to forget that and go, 'Why would you say that [on TV]?'"
"It's not like it was a planned out thing where we said it just to get ratings. There were things from the past that needed to be worked on."
Another thing the couple wanted to set the record straight on? Parenthood. In their words, the duo aren't seeking to match Amy's uncle Jim Bob and aunt Michelle Duggar's 19 children.
"I don't think we envision having a huge family," said Dillon. "Amy and I are pretty set on the two or three number. We're not looking for double digits, that's for sure!"
Amy added, "But we do wanted to make our relationship as healthy as it could be," she said. "I don't think we want to bring kids into our lives or anything like that until we're as healthy as we possibly can be."
The couple did admit that things got pretty heated when it came to airing out their marital woes. Especially when it involved their cat Winston. According to Amy, the then-kitten jumped on Dillon's back and hung on with its claws, leading to a major dispute.
"When [Dillon] picked up the cat, he got him by the neck like you're supposed to, and meant to put him down on the table, but the cat was freaking out and he accidentally hit the table a little harder than what I would have liked and preferred," said Amy. "I freaked out. I just thought about the people in my life, those that had a temper. I told him, 'I don't want to be with you if that's how you'll be.'"
"Dillon isn't a cat abuser, that's for sure," she clarified. "And I do not swing at my husband. I think the only time I did was on the cat incident. But other than that, I don't hit my husband. I have a lot of respect for him.'"
Despite those moments aired on the show, the couple is satisfied with how they're being portrayed. And while Dillon made it clear he had no interest in filming another reality TV series in the near future, his wife hasn't completely rejected the idea.
"I think it depends on what kind of show it would be and whether it would benefit the marriage or not," she explained. "We're not out to reveal the world every part of us. There are some things that are still sacred and marriage is a covenant."
"Marriage Bootcamp: Reality Stars" airs on Fridays on WE tv.