'America's Got Talent' recap: Simon Cowell makes tween rapper cry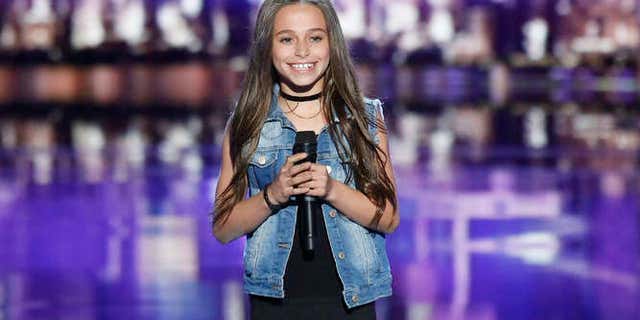 NEWYou can now listen to Fox News articles!
Simon Cowell has broken another little girl's heart.
Aspiring tween rapper Skylar Katz of Melville, New York was left in tears Wednesday night after failing to advance to the live rounds of "America's Got Talent."
The news came as a shock to the middle schooler who, just hours earlier, Cowell praised as "the coolest 11 year-old in the world."
Judge Howie Mandel also appeared to be a huge fan at first.
"You have the whole package," he told her. "Not only do you have swag, you have talent. You are a beautiful young lady. You have style. You are going places."
During the second night of "Judge's Cuts," 20 acts performed but only seven were chosen to move forward in the competition.
At the conclusion of the telecast, the final spot came down to Skylar — whose musical influences include Biggie Smalls and Tupac — and 12 year-old country singer Kadie Lynn.
Cowell approached the heartbroken girl as she left the stage, telling her, "I'm sorry. I don't want you to think for one second that you did anything wrong because you didn't."
Backstage, Skylar ran into her parents' arms for comfort. "I am disappointed, but I am going to keep going," she said.
The evening's big winner was 14 year-old contortionist Sofie Dossi, who earned a golden buzzer from guest judge Reba McEntyre.
She advanced along with Kadie, fellow contortionist Vello Vaher, 10 year-old magician Kaden Rockett, transgender comic Julia Scotti, singer Moya Angela and knife throwing daredevils Deadly Games.
Comedian Adam Grabowski didn't have quite as good a night.
He received the only "X" of the evening and appeared to be practically booed off the stage after the crowd fell silent during his routine about women becoming aroused by desserts.
"Oh, my God, I feel so bad," Mandel can be heard saying after the performance. "That hurt."
Grabowski insists the abbreviated set didn't go quite as badly as it appeared on television.
"They cut all of the laughter and most of my lines out, which made my act sound incoherent," he tells Fox411.
"While I am disappointed with the way my act was cut, I am thankful to AGT for the experience. The thing to keep in mind about any form of reality TV is: editing."
Twenty more acts will perform next Tuesday. Another seven will advance.
"America's Got Talent" airs Tuesdays and Wednesdays on NBC.