'America's Got Talent' discovers 'the next Taylor Swift'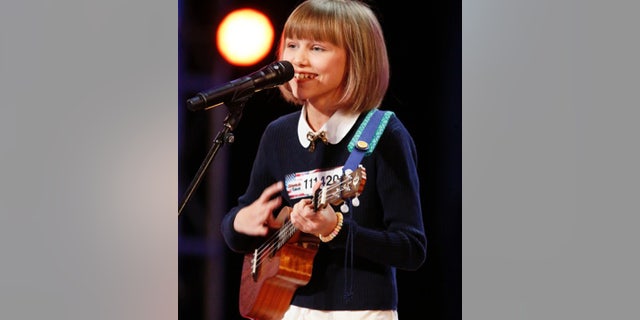 NEWYou can now listen to Fox News articles!
"America's Got Talent" may have already found its season 11 champion — and a potential pop music superstar!
Grace VanderWaal, a 12 year-old singer-songwriter from New York City, stole the show Tuesday night with her ukulele and an original tune called "I Don't Know My Name."
Judge Howie Mandel advanced the sixth-grader straight to the live quarterfinals with the season's second Golden Buzzer, while Simon Cowell declared her, "the next Taylor Swift."
 
Grace is the second tween girl to score a free pass to the live performance shows.
Last week, middle school opera sensation Laura Bretan advanced with similar fanfare.
But Grace, who took the stage in a preppy schoolgirl sweater and bright yellow stretch pants, is more relatable to the show's young female voters and will likely advance further.
Her sound and look are equal parts quirky and original.
"This is a show about surprises," Mandel praised. "I think you are a living, beautiful, walking miracle. Your original song about people not knowing your name ... I think the world is going to know your name."
Week two of the pre-taped auditions also featured:
THE AMAZING SLADEK
Daredevil hand balancer Gary Sladek, 57, stacked white wooden chairs at least 20 feet in the air and did a handstand on top. "Nobody in America is doing what I am doing at my age," he declared. The judges liked what they saw and passed him through.
D.J. DEMERS
The stand up comic, 30, suffers from severe hearing loss — which he cleverly incorporated into his act. "You found the humor in who you are and what we are thinking," Mandel touted. "Up until now, this season, as far as comedy goes, you are my favorite."
EDGAR
This family band is led by former Christian music star Nikki Leonti, who was shunned by the churchgoing community after she became pregnant as a teenager. Nikki performed with her husband and now teenage daughter and earned a ticket to the next round. "Its not how many times you get knocked down, it's how many times you get up," Mandel told her.
JOHN HETLINGER
At 82, the former Navy pilot may be the oldest act in the competition. He shocked the audience by belting out a head-banging version of Drowning Pool's 2001 anthem, "Bodies." "I thought you were going to come on and sing 'Fly Me To The Moon," Cowell quipped. "You are an animal. I absolutely love you, John."
Sadly, not everyone had a successful evening.
Danny Palumbo, a 30 year-old bartender from Austin, Texas drew crickets and a round of boos with his bland stand up routine about the difficulties of communicating with his mother.
"You have to chalk this one up to experience," Cowell said.
AMERICA'S GOT TALENT airs Tuesdays at 8:00 PM on NBC.